Press release
Government boost for jet engines with £10 million investment for next generation technology
Business Minister Anna Soubry has announced that Loughborough University has been awarded nearly £10 million of government funding.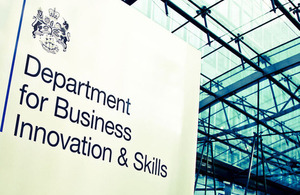 Business Minister Anna Soubry today (5 February 2016) announced that Loughborough University has been awarded nearly £10 million of government funding to create a new open access National Centre of Excellence in Gas Turbine Combustion Aerodynamics. The centre will allow UK industry to access state-of-the-art facilities and will lead research and technology development in gas turbine combustion - a central feature of large jet engines.
This funding comes after the government committed an extra £900 million for aerospace R&D, helping to maintain the UK's position as a global powerhouse in the aerospace sector. The money, announced in the 2015 Spending Review, will be match funded by industry meaning that the total joint commitment is now £3.9 billion from 2013.
Business Minister Anna Soubry said:
The UK aerospace sector is one of our great success stories. It's an industry which is flying high and provides the highly skilled jobs that are needed to grow our economy. That's why we have extended our commitment to aerospace R&D by a further £900 million over the next 10 years.

Loughborough University is renowned for its world-leading research in aerospace and engineering. This new Centre of Excellence will deliver the next generation of greener, more efficient gas turbine engines and new projects like this will help maintain our position as a world leader in aerospace and help the industry to maintain its sky high success.
Figures released by the aerospace trade body, ADS Group, last week showed that 2015 was a record year for aircraft production showing the importance of supporting aerospace projects like these to meet growing global demand.
The new Centre of Excellence will replace and enhance capability that previously existed at Rolls-Royce. The company is making a contribution to the value of £4 million, embedded in a research environment, enabling industry and academia to accelerate technology innovation and development.
The aim of the Centre will be to research and test new greener and more efficient combustion technologies required to meet emissions targets and drive product competitiveness.
The project has been awarded the money from the joint government and industry funding programme for aerospace R&D, delivered in partnership by the Department for Business, Innovation and Skills, Aerospace Technology Institute (ATI) and Innovate UK.
Professor Robert Allison, Vice Chancellor of Loughborough University, said:
The University is delighted to be developing this pioneering National Centre of Excellence.

Loughborough has a long tradition of working closely with industry, aligning its research activities with the requirements of companies and organisations. The boundaries between research, design, development and manufacture are becoming increasingly blurred, and so it makes absolute sense to bring the researchers and engineers together to ensure the fast pull through of technology to industry.
Nicky Morgan, Education Secretary and Minister for Women and Equalities said:
This new Centre for Excellence will help Britain lead the way in this important scientific field and I hope more young people, particularly women, are able to benefit from the exciting opportunities these new facilities will bring.

By creating new roles within engineering, the Centre also has a vital role to play securing our future talent pipeline – helping to provide the knowledge and skills in demand in our modern economy.
Simon Weeks, Chief Technology Officer of the Aerospace Technology Institute, said:
Reducing the environmental impact of future aircraft is central to the Institute's Technology Strategy for UK aerospace, and key to retaining leadership in aircraft engines. The new Loughborough University Centre of Excellence for Gas Turbine Combustion will create a world-class centre for developing low-emission combustion technologies for future generations of engines, and the unique facilities and skills in the centre will provide broad spill-over benefits into other sectors.
Chris Barkey, Director - Engineering and Technology, Rolls-Royce, said:
We welcome the significant new investment announced today by the Business Minister. The new Centre will play a key role in helping the UK develop the advanced technologies needed to meet international environmental performance targets. By enabling closer cooperation between the university and industry, it will also help train the next generation of highly skilled engineers and scientists. I am delighted that we are able to further strengthen our strategic partnership with Loughborough University through this investment.
Preliminary work began on the new facility in August 2015 and it is expected that the centre will be operational in early 2018.
Notes to editors
The project is receiving £9.8 million funding from the aerospace R&D programme, a £3.9 billion joint funding commitment from industry and government to support projects which build on the UK's strengths and develop the products and manufacturing technologies that will best position the UK to sustain its global competitiveness. The programme is delivered in partnership between the Department for Business, Innovation and Skills, Innovate UK and the Aerospace Technology Institute. The commitment was made in 2013 and the 2015 Spending Review announced that the funding would be extended by 6 years to 2025 to 2026, worth an additional £900 million from the government.
The ATI was created by government and industry to guide investment into research and technology projects that will sustain and enhance the UK's competitive advantage. Its Technology Strategy, launched in July 2015, defines the best combination of capabilities, technologies and products to advance next-generation civil aircraft; enabling industry to exploit anticipated global growth, and deliver value to the UK economy through the sector's high productivity and skills.
Innovate UK is the UK's innovation agency. It works with people, companies and partner organisations to find and drive the science and technology innovations that will grow the UK economy - delivering productivity, new jobs and exports and keeping the UK globally competitive in the race for future prosperity.
The National Centre of Excellence in Gas Turbine Combustion System Aerodynamics will cover Technology Readiness Levels (TRLs) levels 1 to 6, from the formation of basic principles to the demonstration of a model or prototype in a relevant environment. TRLs describe the stages involved in assessments of the maturity of evolving technology.
The centre will focus on the development of future low emission aerospace combustion systems that fulfil the targets set out by the Advisory Council for Aviation Research and Innovation in Europe (ACARE). The targets in ACARE's vision to 2020 are to:
reduce fuel consumption and CO2 emissions by 50% per passenger kilometre
reduce NOx emissions by 80%
reduce perceived noise by 50%
make substantial progress in reducing the environmental impact of the manufacture, maintenance and disposal of aircraft and related products
Its longer term goals are outlined in its Flightpath 2050 document.
Published 5 February 2016