Press release
Government axe falls on 5,000 low value adult vocational qualifications
Courses and qualifications in self-tanning, balloon artistry and instructing pole fitness will no longer attract government funding.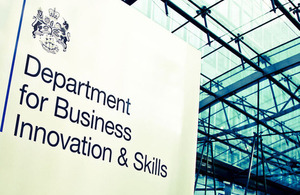 Courses and qualifications in self-tanning, balloon artistry and instructing pole fitness will no longer attract government funding under a bold new reform plan to simplify and streamline the adult skills system.
Skills and Enterprise Minister Matthew Hancock announced the radical plan to reduce the number of under-used and low value qualifications which are available for taxpayer funding. The intention to remove funding from these qualifications was highlighted in the spending review. The changes mean that nearly £200 million of the adult skills budget will be re-directed towards the highest quality and most relevant qualifications.
The government expects to reduce the number of available qualifications by more than 5,000 to make the system respond more closely to employers' needs and give learners a clear route either to employment or further training.
Skills and Enterprise Minister Matthew Hancock said:
Small qualifications in coaching angling, aerial balloon displays and self-tanning are not a good use of taxpayers' money or learners' time.

There are currently 15,400 regulated qualifications, and even with the restrictions we have made so far, 11,000 of them are eligible for government funding. This means the system is complicated, bureaucratic and hard to understand, and we need to change that.

We are determined to make sure that people who work hard to achieve a qualification can be sure that it is recognised as meaningful and valuable to employers and that it makes a real contribution to our long-term economic plan for Britain.
Professor of Public Sector Management Alison Wolf said:
I am delighted that, 3 years on from my report on 14 to 19 education, the government is starting a serious reform of adult vocational education. The 2 parts of the system need to fit together, and adult vocational qualifications have until now remained seriously unfit for purpose.
Commissioner for the UK Commission for Employment and Skills Nigel Whitehead said:
I welcome the launch of the vocational qualifications plan for England. I'm keen to see it implemented quickly so that learners and employers can have confidence in the quality and relevance of apprenticeships and vocational qualifications.
The Department for Business, Innovation and Skills (BIS) today published its reform plan for vocational qualification – 'Getting the job done: the government's reform plan for vocational qualifications'. This builds on Alison Wolf's review of vocational education, published 3 years ago this month, and on the reforms we are making to apprenticeships. A further report issued by Nigel Whitehead of BAE Systems highlighted the changes employers wanted to see to make sure the system is best equipped to provide relevant skills and to show clearly the abilities someone has gained.
As well as removing funding for this raft of qualifications the reform programme will make sure that qualifications:
give employers greater ownership of occupational standards and qualifications
are designed and assessed in light of the best research and international practice
attract funding only if they are valued by employers and offer learners an opportunity to meaningfully progress in employment or further learning.
are open and accessible, and are available on databases which it is easy for learners and employers to use.
At the same time, Ofqual will be reviewing the way qualifications are regulated, to make sure that the system consistently produces high quality qualifications, rather than ones which need to be removed from funding because they do not meet real needs.
Notes to editors
The Vocational reform document 'Getting the job done: the government's reform plan for vocational qualifications' is available online.

The government's economic policy objective is to achieve 'strong, sustainable and balanced growth that is more evenly shared across the country and between industries'. It set 4 ambitions in the 'Plan for Growth', published at Budget 2011:
to create the most competitive tax system in the G20
to make the UK the best place in Europe to start, finance and grow a business
to encourage investment and exports as a route to a more balanced economy
to create a more educated workforce that is the most flexible in Europe
Work is underway across government to achieve these ambitions, including progress on more than 250 measures as part of the Growth Review. Developing an Industrial Strategy gives new impetus to this work by providing businesses, investors and the public with more clarity about the long-term direction in which the government wants the economy to travel.
Published 5 March 2014