News story
Government Art Collection goes to Belfast
See fascinating collections spanning hundreds of years.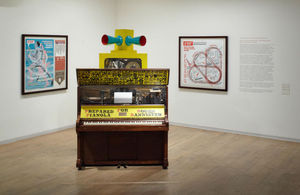 The Government Art Collection (GAC) exhibition has been unveiled at the Ulster Museum in Belfast.
Revealed will feature more than 160 works spanning hundreds of years, usually displayed in official residences and government buildings around the world.
Divided into five sections, the selections highlight how the Collection often makes cultural, historical or geographical connections between the works and the locations in which they are displayed.
Personal choices
The Government Art Collection invited personal choices from politicians and ambassadors, giving an insight into the role played by art in cultural diplomacy.
There are also pieces selected by staff from 10 Downing Street, which they encountered in their daily working lives. Selections by artist Cornelia Parker and historian Simon Schama also feature, and the final section focuses on the GAC-commissioned artworks which include a recent multi-media installation from the artist Mel Brimfield.
Penny Johnson, Director of the Government Art Collection said, "This exhibition will offer visitors to Ulster Museum the chance to see the extraordinary breadth of works of art that normally hang in UK Embassies, High Commissions and other official residences and buildings around the world. I'm particularly pleased that we've been able to bring all these engaging works, dating from the 16th century to the present day, together under one roof here in Belfast."
Plan your visit
The exhibition runs from 15 March until 9 June 2013.
Further information
Published 15 March 2013