News story
Government appoints new Chief People Officer
Rupert McNeil announced as Chief People Officer for the Civil Service.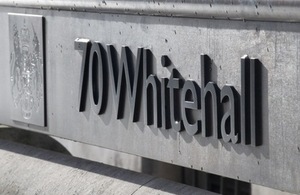 Following a full and open competition, John Manzoni, Chief Executive of the Civil Service, is pleased to announce the appointment of Rupert McNeil as Chief People Officer for the Civil Service.
Rupert is currently Group HR Director at Lloyds Banking Group, prior to which he has had extensive experience as a senior HR executive at Aviva, Barclays PLC and as a partner at Deloitte. He will take up his new post in January 2016.
Rupert will join at a crucial time for the Civil Service, as we continue to do more with less and meet the expectations of our citizens in the 21st century. He will continue to build the HR function so it can effectively support these changes, strengthening the centre and providing leadership to HR professionals across departments.
Minister for the Cabinet Office, Matt Hancock, said:
Rupert has a hugely important job, to make government the best it can possibly be by attracting and retaining the most talented people from across the UK. He will be crucial in creating a truly one nation civil service.
John Manzoni said:
I'm delighted that Rupert will be joining us. He faced a field of strong candidates from across the public and private sectors, but his record of driving transformational change in large and complex organisations made him the ideal candidate to help lead the Civil Service at this crucial time.
Rupert McNeil said:
I am excited and privileged to join the Civil Service and to contribute to its transformation. I look forward to meeting and working with my new colleagues across all the Civil Service departments.
Notes to editors
the post of Chief People Officer is a new role, building on the Head of Civil Service HR post previously filled by Chris Last
Rupert will lead the HR function across the Civil Service, acting as head of profession to the approximately 3,000 HR professionals across government departments, directly responsible for the Civil Service HR Group in the Cabinet Office, and with wider responsibilities including oversight of Civil Service Learning, employee policy and resourcing
accountable to the Chief Executive, he will therefore lead all aspects of workforce strategy and reform, talent strategy, Civil Service capability (including learning and development), as well as diversity and inclusion across the Civil Service
Published 13 October 2015