Press release
Government appoints Chief Procurement Officer
Francis Maude has today announced that Bill Crothers will be appointed as the government's Chief Procurement Officer.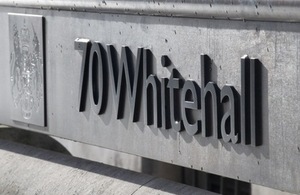 As part of the drive to ensure Whitehall operates in a more business-like fashion, the Minister for the Cabinet Office, Francis Maude, has today announced that Bill Crothers will be appointed as the government's Chief Procurement Officer with a broadened remit covering a range of commercial as well as procurement responsibilities. 
The appointment will strengthen the government's ability to match best practice in the private sector by merging the existing procurement and commercial relationship functions in the Cabinet Office into a single "Commercial Procurement and Relationships Directorate", which Bill will run. The restructure follows the publication of the Civil Service reform plan, which set out a clear need to improve commercial expertise in the Civil Service. 
Until now, Bill Crothers, who has extensive private sector experience and is a chartered accountant, has been the Cabinet Office's Executive Director of Commercial Relationships.  In this role, Bill led on the government's relationships with its key suppliers, including the programme of supplier renegotiations that has recently delivered millions in savings from companies such as Oracle and Microsoft. 
Francis Maude said:
We've made impressive progress on this agenda over the past 2 years, including saving £1.7 billion on procurement and over £800 million through contract renegotiation in 2010 to 2011 alone. This is the next step in operating in a more commercially savvy way.

Given Bill's background and track record I am delighted that he has agreed to take on this expanded role as the government's Chief Procurement Officer.
Bill Crothers said:
I am delighted to be taking up the role of Chief Procurement Officer and leading government's drive to become a more demanding and commercially astute client.

Only two weeks ago we met with 20 of the government's biggest suppliers, representing about £15 billion of annual spend, to set out the next phase of the government's commercial programme. It was clear that they welcome the commercial reforms we have put in place and the opportunity to table further ideas.
The remit of the newly merged directorate, under Bill's leadership, will include:
The government's strategic supplier programme, including supplier performance policy. This programme manages commercial relationships across government to ensure suppliers are delivering the best value for money and contracts are well-managed. The programme is the first of its kind in the public sector and focuses on around 40 of the government's top suppliers.

The Crown Representative network. The government now has a team of skilled negotiators (Crown Representatives) from the private and public sectors who act as representatives of the government and interact with the key suppliers, ensuring government acts as a single client. These negotiators are responsible for the ongoing programme of supplier renegotiations, which was first introduced in 2010 and resulted in £800 million of savings from contracts in the first 10 months alone.
Government procurement. This includes procurement of all goods and services, including ensuring adequate access to SMEs for government contracts and centralised procurement through Government Procurement Service.
Development of the procurement profession and capability across Whitehall. Bill Crothers will become head of the procurement profession across Whitehall, and his directorate will be responsible for the new Commissioning Academy, designed to elevate the status of both commissioning and procurement, and develop a cadre of professionals that are progressive in their outlook on how the public sector uses the resources available.
Bill will be supported in his role as head of the profession by Sally Collier, as Deputy Chief Procurement Officer, and David Shields, as Managing Director of Government Procurement Service.
Notes to editors
1. This strengthens commercial capability by ensuring that the one directorate will cover the commercial spectrum - from supplier relationships and contract negotiation to detailed policy implementation and day-to-day procurement.
2. Bill has extensive private sector experience as well as having worked in the Home Office and Cabinet Office.  Bill is a fellow of the Institute of Chartered Accountants, CIPS and the British Computer Society.
3. About Cabinet Office efficiency agenda:
Tight controls on spending and a business-like approach to government have led to cash savings of £3.75 billion from May 2010 to April 2011 and the gvernment anticipates a further £5 billion in savings for the 2011/12 financial year. See:
4. About Crown Representatives:
In 2011 the Cabinet Office introduced a new approach for how government engages with its key suppliers, introducing the 'Crown Representative' network to act as a focal point for particular groups of providers looking to supply to the public sector.
Crown Representatives manage either a small pool of government's key strategic suppliers, or represent a particular sector of the market.
Additionally, some Crown Representatives address and represent the needs of specific groups of providers, such as SMEs, voluntary sector organisations, social enterprises, and support and foster the creation of new commercial models for delivery of public services.
The full team is:
Martin Bellamy - Director National Offender Management Service, Change and Information and Communication Technology
Vincent Godfrey - Director of Procurement, Ministry of Justice
Ann Pedder - Commercial Director, Procurement, Foreign and Commonwealth Office
Brendan Peilow - Head of Government Banking Service, HM Revenue & Customs
David Thomas - Commercial Director, HM Revenue & Customs
David Smith - Commercial Director, Department for Work and Pensions
Bill Yardley - Head of Projects, Defence Infrastructure Organisation, Ministry of Defence
Stephen Allott - Crown Representative for Small and Medium Enterprises
Stephen Kelly - Crown Representative for New Business Models
Michael O'Toole - Crown Representative for the Voluntary Community and Social Enterprise sector
For more detail on the network and supplier renegotiation programme see 'A new approach to supplier relations in government'.
Published 10 July 2012