Press release
Government announces new appointment to Acas
Sally Hunt has been appointed as a new member to the Advisory, Conciliation and Arbitration Service.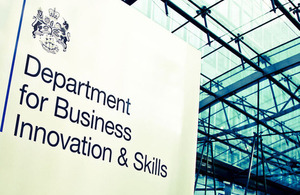 The government has today (27 March 2015) announced the appointment of a new member to the Advisory, Conciliation and Arbitration Service (Acas) Council.
Sally Hunt joins Acas as an employee member. Her appointment is for 3 years with the option of reappointment.
Sally will take up her role today, 27 March 2015, and replaces Jonathan Baume.
Notes to editors
Biography: Sally Hunt is general secretary of the University and College Union (UCU), the world's largest post-school education trade union. Sally's first job in the trade union movement was a senior research officer with the financial trade union now known as Accord. Following that she was assistant general secretary of the Nationwide Group Staff Union. In 1995 Sally joined the Association of University Teachers as assistant general secretary. She was elected its general secretary 2002 and led the union through a merger with the National Association of Teachers in Further and Higher Education which formed UCU. Sally is the TUC's spokesperson on international issues and represents the TUC at the European Trade Union Confederation and International Trade Union Confederation. She is a patron of War on Want. Away from work she enjoys spending time with her daughter and is an Arsenal supporter.
Acas is an independent non-departmental public body (NDPB) and the Acas Council is the overarching governance body for Acas. The Council consists of 12 members, including the Chair, and membership is drawn from employer, employee and independent backgrounds. Acas aims to improve organisations and working life through better employment relations. It provides 3 main services:

advice on workplace matters through a helpline which received just under 900,000 calls in 2013 to 2014 and website with over 4 million visitors annually.
conciliation services which help resolve disputes between employers and individual employees or groups of employees – last year Acas advisers were involved in around 41,000 individual conciliations and 858 collective conciliations.
tailored training and advice for individual organisations. In 2013 to 2014, Acas trained nearly 30,000 delegates.

Acas is independent of ministers, but is one of the Department for Business, Innovation and Skills' key partners. Acas' services contribute to delivering a competitive, efficient and effective labour market which supports economic growth and employment.
These appointments were made following an open selection process conducted in accordance with the Code of Practice and other guidance issued by the Commissioner for Public Appointments.
Published 27 March 2015