Government announces hundreds of new teacher scholarships
Information about the National Scholarship Fund and its inclusion of special education needs (SEN) support staff for the first time.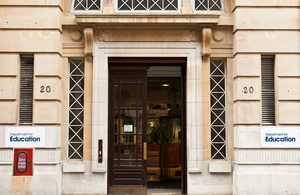 Schools Minister Nick Gibb today announced more than 650 new recipients of teacher scholarships, which includes special education needs (SEN) support staff for the first time.
The second year of the £2 million National Scholarship Fund will see the government supporting teachers and SEN support staff to develop their skills and deepen their subject knowledge.
The continuation of the scheme is further evidence of the government's belief that continuing professional development is the key to creating a world-class teaching profession.
The scholarships are worth a maximum of £3,500 for teachers and a maximum of £2,000 for SEN support staff. The value of each award is dependent on the type of activity funded.
Just over half of the applicants for both categories were successful:
387 teachers (35 English, 101 maths, 15 science and 236 SEN teachers).
274 SEN support staff.
Schools Minister Nick Gibb said:
We have awarded these scholarships to teaching staff who have demonstrated their potential to develop deep subject knowledge and their desire to pass it on to their pupils.

A teaching profession that values scholarship and subject knowledge, with a commitment to continuing professional development is crucial to raising standards in our schools. These scholarships, along with our other reforms to improve teacher recruitment and training, will help deliver our objective of raising the status of teachers.
Applications in respect of the three priority subjects - English, maths and science - were received for a wide variety of activities ranging from a level 5 diploma to a Masters:
Masters in Mathematics Education
Masters in Victorian Literature
Post Graduate Certificate in Astronomy and Astrophysics
Level 7 Diploma in Specific Learning Difficulties and Dyslexia
BPhil in Special Education: Autism (Children) Distance education
The scholarships are awarded where applications are judged to be of sufficient merit. This round of the scholarship fund, the first for SEN support staff, was awarded based on the following criteria:
priority subjects/specialism - to include maths, English, science and SEN;
support from school - teachers and SEN support staff will be required to demonstrate support from their school in terms of accessing resources and being able to carry out activities within and outside the school; and
level and type of scholarship activity - encourages serving teachers and SEN support staff to deepen knowledge independently to Masters level and beyond.
Brian Lamb OBE, Chair of Achievement for All and Chair of the Lamb Inquiry into SEN and Parental Confidence, said:
Having expert and knowledgeable teachers to improve the attainment and outcomes for children with SEN is crucial. These scholarships will help support the development of that real expertise and greater focus on the needs of children with SEN. I was hugely impressed with quality of applications and the commitment of teachers to improve their skills that I saw in the applications this year.
Ian McNeilly, Director of the National Association for the Teaching of English (NATE), said:
This scholarship fund is a helpful step towards making teaching exactly what it should be - a profession full of highly qualified practitioners.
Philippa Stobbs, Principal Officer of the Council for Disabled Children, said:
I welcome the overwhelming level of response to the scheme and people's enthusiasm for developing expertise in such an important area.
The National Scholarship Fund for teachers and SEN Support Staff is administered by the Teaching Agency. Further details can be found on the Teaching Agency's 'Get into teaching' website.
Notes to editors
1. Awards by region
Government regions

No of successful applicants who work in this region

 

Support Staff

SEN Teachers

English

Maths

Science

East Midlands

32

26

2

11

1

East of England

33

23

1

15

0

London

53

53

7

11

3

North East

9

8

1

22

0

North West

27

31

3

10

3

South East

40

33

13

13

4

South West

30

27

5

6

1

West Midlands

14

17

0

11

1

Yorkshire and Humber

36

18

3

2

2

Grand total

274

236

35

101

15
Details from some of the teachers and SEN support who have been awarded a scholarship:
Katy Mitchell from Bristol, who has won a scholarship to take a specialist course in Early Years and Deafness, said:
I am very pleased to have received notification today that I have been successful in my application to the National Scholarship Fund. This funding will allow me to take a specialist course in Early Years and Deafness 0 to 2 years with Mary Hare training services in association with Oxford Brookes University.
The course will provide me with a greater awareness of childhood development, family dynamics and parenting styles and audiological competence. As a teacher of the deaf, it will positively impact on my daily practice, improving the quality of provision delivered to young deaf children and help me to aim high for improved outcomes for the young deaf children I work with.
Zara Patrick from London, who will use her scholarship for a Masters in Science Education, said:
I applied for the National Scholarship Fund so that I could complete a Master's course to deepen and extend my Science subject knowledge. As a Biology teacher my expertise in Chemistry and Physics are not as strong. The Master's in Science Education will provide increased knowledge of my non specialist Science subjects and give me the passion and confidence to teach them to a high standard. Aside from contributing to my own continued professional development I hope to be able to pass on my expertise to colleagues, student teachers and of course the pupils in the classroom.
Terry Bayliss, who will use his scholarship for a Master in Education, said:
I applied for the National Scholarship Fund to help fund a Masters in Education. I believe all teachers should be active researchers within their classrooms whether through formal research projects or as an integral part of their planning and delivery. A Masters will give me the skills to work at the cutting edge of the profession and to continue to develop as my career progresses. They may think they've found the Higgs Boson, but how best to teach science is even more elusive.
The Teaching Agency replaced, amongst other bodies, the Training and Development Agency for Schools (TDA). It is responsible for ensuring the supply of high-quality teachers and training, and for teacher regulation.
DfE enquiries
Central newsdesk - for journalists 020 7783 8300
General enquiries - for members of the public 0370 000 2288
Published 31 August 2012