Government announces film policy review
Identifying barriers to growth, building more successful British film industry will be top priorities of a review of government film policy.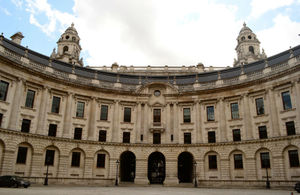 Identifying barriers to growth and building a more successful British film industry will be the top priorities of a review of Government film policy to be led by former Secretary of State for Culture, Media and Sport, Lord Chris Smith.
Appointed to the review by Minister for the Creative Industries, Ed Vaizey, Chris Smith will chair an eight-strong independent panel of film industry experts, including Oscar® winner Lord Julian Fellowes and representatives from the new Board of the British Film Institute (BFI), which recently became the lead body for the delivery of film policy in the UK.
Lord Smith and the panel are expected to report by the end of the year. They will look across the UK film industry considering film development and production, distribution and exhibition, and inward investment.
Ed Vaizey said:
"This has been an excellent year for British film at the awards ceremonies and we can be really proud of this. But this success masks the underlying problems that the industry continues to face.  British film making is still not as profitable as it should be for British film makers and there remain significant challenges in getting productions off the ground.
"Though many issues are rightly for the industry to resolve the Government can play a big part in helping to make things better. Through this review, Chris Smith will bring the different branches of the industry together to identify what the key problems are and then look at how these can be tackled. We need to work hand-in-hand with the recently strengthened BFI and the industry to find solutions and make sure that the Government has a framework of policies that support successful business models, nurture our celebrated film talent, contribute to economic growth and create a flourishing film culture across the whole of the UK."
The panel will help set the  Government's strategic direction for how the UK film industry can best be supported to develop successful business models that allow them to contribute to economic growth whilst nurturing our celebrated film talent and engaging with UK audiences.
Chris Smith said:
"I'm delighted to be leading this review.  As we've seen from recent awards, British film at its best can beat the world.  But how can we ensure that it's always able to achieve its best: that's the crucial question. How can Government and the industry work together to do so? 
"We want to hear from the industry, from film-makers, from experts, from audiences, and from all who have a contribution to make to the debate.  Getting the right framework of policy in place for supporting British film is the challenge we are aiming to address." 
The BFI will be responsible for setting and implementing detailed delivery plans within the new policy framework, which will be driven by the challenge to make best use of increased Lottery funding becoming available after the 2012 Olympic Games. Lottery money for British film will increase by about 60 per cent by 2014, to around £43m a year. 
Chair of the BFI, Greg Dyke said:
"The BFI is very keen to work with Chris Smith on the policy review, which will principally look at how the film industry in Britain can grow further.  We welcome being fully involved in the process and are glad that three of our governors will be on the panel and that we will be leading on part of the review itself in the areas of learning and audience engagement. During this time, we will be developing the BFI's own strategic forward plan, which will obviously be influenced by the Government policy review."
Lord Fellowes said:
"I am delighted to be part of the Government's film policy review. It has been a great year for British film but it is important that we keep up this momentum and so I welcome the Government's initiative on this."
The review panel will comprise:
Will Clarke - Independent Cinema Distributor, founder and former CEO of Optimum Releasing

Lord Julian Fellowes, Oscar® winning writer and actor

Matthew Justice, UK Film Producer and MD of Big Talk Productions

Michael Lynton, Chairman & Chief Executive Officer of Sony Pictures Entertainment

Tim Richards, Chief Executive of Vue entertainment

Tessa Ross, Channel 4 Controller of Film and Drama

Libby Savill, Head of Film and Television at Olswang

Iain Smith, film producer and Chair of the British Film Commission Advisory Board
Notes to editors
Chris Smith biographical information:
A graduate of Cambridge and a Harvard scholar, Chris Smith became an M.P. when he won the Islington South & Finsbury constituency in 1983.
Chris Smith joined the shadow cabinet in 1992 as shadow Secretary of State for Environmental Protection and covered a number of shadow departments before the general election of 1997.
He was the Secretary of State for Culture, Media and Sport from 1997 to 2001.  From 2001 to 2004 he was a member of the Committee on Standards in Public Life.
In 2005 Chris was given a life peerage, as Rt Hon Lord Smith of Finsbury.
From July 2007 he has been Chairman of the Advertising Standards Authority, and from 2008 he has been Chairman of the Environment Agency.
The Government announced in June 2010 that it would return the proceeds of the lottery to the original good causes. This means that, following the London 2012 Olympic and Paralympic Games funding for film will increase by approximately 60 per cent to around £43m annually.

The Government's Ministerial Film Forum will hold its next meeting in July.
Press Enquiries: 020 7211 2210
Out of hours telephone pager no: 07699 751153
Public Enquiries: 020 7211 6000
Published 24 May 2011