Press release
Government announces changes to court estate
Seven court buildings that are either underused, dilapidated or too close to another will be closed, with money raised reinvested into modernising the justice system.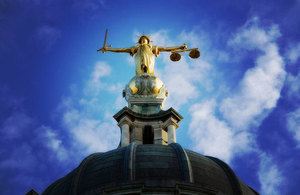 Savings from closing seven courts to be reinvested into reform
Systems will be modernised, improving access to justice for all
Following careful consideration, Cambridge Magistrates' Court will remain open
Services will be moved to alternative locations as close as possible to the closing court.
During 2016/17, 41% of court and tribunal buildings were used for less than half of their available time. This, coupled with an estate inherited from previous organisations before the advent of HM Courts and Tribunals Service (HMCTS), means there is some excess court capacity, with some of the estate in poor condition or in close proximity to another court building.
Following public consultations, decisions have been made to close:
All courts were assessed on the basis of ensuring access to justice, delivering value for money and the ability to offer efficiency in the long term. Cambridge Magistrates' Court – on which the decision to consult was finely balanced – will remain open following consideration of a range of issues, including its location within a large and well-connected city and new evidence suggesting that closure would not provide sufficient value for money.
Unlike the other seven courts which are freeholds owned by HMCTS, Cambridge Magistrates' Court is a long Finance Lease with restrictions on use. After further investigation of the likely costs, the Lord Chancellor has concluded that the value for money case has not been made. HMCTS will continue to explore further ways to manage under-utilisation of existing buildings in the region as part of its wider estates strategy.
Northallerton Magistrates' Court serves an exceptionally rural community but during the course of the consultation public service transport timetables were altered. This may make it more difficult for some users in some areas to get to court, especially for early morning starts. As a result, the court will not be closed until video facilities are made available in Northallerton.
Lord Chancellor, David Gauke said:
All money raised from the sale of these buildings will be reinvested into the justice system, and we want to reassure communities that those affected by closures will have access to alternative courts.

We must ensure we use public money effectively and make decisions in the best interest of the wider justice system.
More than 700 responses were received following the consultations published in January. Travel times and distances to the nearest courts were thoroughly considered before final decisions were made.
The Government is investing £1 billion in reforming and modernising courts and tribunals, which has already delivered:
An online system which enables court staff to prepare case files and access them digitally in a courtroom during a hearing – saving 68 million pages of paper.
The ability for those convicted of minor motoring offences to make their initial plea online. Some 1500 pleas are dealt with online every week. Court staff and the police automatically receive the completed online plea form as soon as the defendant has submitted it, reducing delays.
A fully paperless system in conjunction with Transport for London - which means thousands of cases involving fare evasion are dealt with more swiftly and effectively.
In the civil courts people can now:
Make a small money claim online – with over 3,000 claims issued in the first month, cases moving through more quickly, and user satisfaction over 80% during the pre-launch pilot.
Apply for a divorce online - which has cut errors in application forms from 40% to less than 1%, saving people time and trouble during a traumatic time.
Apply for probate online - which has also cut errors, sped up the process, and has a satisfaction rate of more than 90%.
Court buildings are also being improved and as of March 2018 approximately £108m was spent on capital maintenance to improve the existing estate. Approximately £115m has been raised from the sales of surplus buildings to reinvest in the wider reform programme.
Published 24 July 2018