News story
Government acts to improve focus on customers of financial services
Measures in the Small Business, Enterprise and Employment Bill will enable banks to use new technology to deliver better services for customers.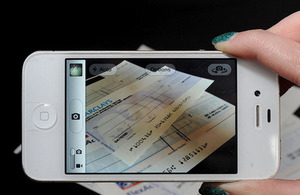 The Economic Secretary to the Treasury, Andrea Leadsom, has today welcomed the introduction of the government's Small Business, Enterprise and Employment Bill, which includes two major innovations to improve the focus on customers of financial services.
Through the bill, the government will change existing legislation to enable banks to use new technology to deliver better services for customers. This includes modernising cheques legislation so that banks and building societies can introduce "cheque imaging", which will speed up cheque clearing times and give customers greater convenience and choice in how they deposit cheques.
Cheques are a crucial part of the British payments landscape and are especially important to small businesses – sole traders and other micro businesses continue to make over a fifth of their outgoing payments in cheques.
While customers will continue to be able to deposit cheques at branches, cash machines, Post Offices or by post, banks will also be able to offer the option of paying in cheques via smartphone, tablets or other technology.
The government has also confirmed that it will help small businesses access the finance they need to grow by opening up access to the credit data that the major banks hold on their SME customers to other banks and finance providers.
The proposals are intended to make it easier for SMEs to seek loans from a lender other than their bank by improving the ability of challenger banks and alternative finance providers to make accurate SME risk assessments and lending decisions.
The Economic Secretary to the Treasury, Andrea Leadsom, said:
Key to the government's long term economic plan is building stronger and safer banks that customers can trust. We also want Britain's consumers and businesses to have far greater choice in banking services and that's why the legislation being published today is so important.

The innovations included in this Bill, including cheque imaging, show the government is determined to keep up the pace of our reforms to create a banking sector that delivers for Britain's hardworking people and businesses.
The measures in the Small Business, Enterprise and Employment Bill build on the reforms the government has already introduced to increase competition and innovation in the banking sector, which are good for customers and the economy. These include:
7 day current account switching service to give consumers and businesses the power and confidence to vote with their feet
significantly reducing barriers to new banks entering the market to shake up competition
putting competition at the heart of our regulatory system, including a new payments systems regulator
The government has also recently consulted on whether to introduce legislation to require lenders to small businesses to release details of the businesses that they reject for a loan. Making this information available could help SMEs access finance by enabling and encouraging alternative finance providers to come forward and discuss other options with them. The government is currently considering the responses to its consultation, and will set out further details in the coming weeks.
The UK is a great place to set up a business and more people than ever are beginning new enterprises. The government is backing business every step of the way and introducing legislation to help make the UK the most attractive place to start, finance and grow a business. The Small Business, Enterprise and Employment Bill will help to build a stronger and fairer economy by supporting small businesses as they compete, and ensure they are not disadvantaged by those that do not play by the rules. It will foster and back the entrepreneurial spirit and build on the UK's reputation as a fair and trusted place to do business. The Bill sets out measures to help hard working people have confidence in their employers and reduce the barriers that can hold businesses back from growth.
Published 25 June 2014