Press release
Government acts against metal thieves
Cash payments for scrap metal will be banned and penalties increased, the Home Secretary Theresa May announced today.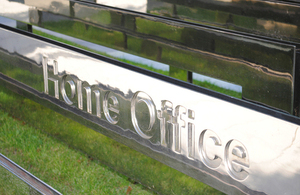 In a statement to parliament, the Home Secretary said the government intends to lay an urgent amendment to the legal aid, sentencing and punishment of offenders bill to:
create a new criminal offence to prohibit cash payments to purchase scrap metal;
significantly increase the fines for all offences under the existing scrap metal dealers act 1964 that regulates the scrap metal recycling industry.
Home Secretary Theresa May said:
'People who deal in stolen metal are criminals, pure and simple. Their activities are bringing misery to individuals and communities as well as damaging our economy.
'We're putting a stop to cash payments and we're imposing unlimited penalties on anyone who breaks the law. This government will do what it takes to protect the public, business and our national heritage from the scourge of metal theft.'
Cash transactions for scrap metal are often completed without any proof of personal identification or proof that the individual legitimately owns the metal being sold. This leads to anonymous, low-risk transactions for those individuals who steal metal. In addition, the widespread use of cash facilitates poor record-keeping by the metal recycling industry and can support tax evasion activity.
Today's announcement follows the commitment outlined in the national infrastructure plan published in November 2011 where the government announced £5 million to establish a dedicated metal theft taskforce to enhance law enforcement activity in this area.
These amendments are part of wider plans to tackle all stages in the illegal trading of stolen scrap metal. Further measures to crack down on rogue dealers will be outlined in due course.
Notes to editors
1. The government proposes that a new criminal offence is created - that cash cannot be used for the purposes of purchasing scrap metal in the course of commercial activities. The offence would be committed by the individual and/or company purchasing the material (similar to current rules on alcohol licensing). It is proposed that the requirement extends to cover any scrap metal dealer registered under the act and those dealers who are not registered (either legally or illegally) but whose activities meet the definition of a scrap metal dealer under the act.
2. For more information call the Home Office Press Office on 020 7035 3535.
Published 26 January 2012