Government activates Bellwin scheme to support local communities hit by flooding
Local authorities in Yorkshire, Derbyshire and Nottinghamshire to receive emergency funds to help with the costs in responding to flooding.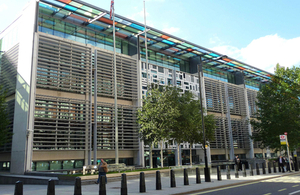 The Ministry of Housing, Communities and Local Government has activated the government's emergency Bellwin scheme to reimburse eligible local authorities for the qualifying immediate costs they incur as part of their response to the flooding in Yorkshire, Derbyshire and Nottinghamshire.
Under the scheme, local authorities dealing with the flooding can apply to have 100% of the eligible costs they incur, above a threshold, reimbursed by the government. This could be for items including rest centres, temporary accommodation and staff overtime.
MHCLG's Resilience and Emergency Division (RED) is supporting local authorities and Local Resilience Forums as they work around the clock on the emergency response and support communities affected by the flooding.
The Environment Agency continue to monitor the flood risk and are working closely with Police, Fire and Rescue, local authorities and partners to reduce the risk of flooding and keep communities safe. On the ground, Environment Agency field teams will continue to operate flood storage areas and pump away flood water.
Further information
Bellwin is a scheme of emergency financial assistance to help local authorities meet uninsurable costs they incur when dealing with the aftermath of an emergency in their area. Each local authority, when a scheme is activated, can claim for eligible costs above a set threshold. Bellwin is regularly activated in times of emergency and made financial assistance available to local authorities in Wainfleet and Richmondshire earlier this year.  

The public can check their flood risk and keep up to date with the latest situation, or by calling Floodline on 0345 988 1188 or following @EnvAgency on Twitter.
Office address and general enquiries
2 Marsham Street
London
SW1P 4DF
Contact form https://forms.communit...
General enquiries: please use this number if you are a member of the public 030 3444 0000
If your enquiry is related to COVID-19 please check our guidance page first before you contact us - https://www.gov.uk/guidance/coronavirus-covid-19-guidance-for-local-government.

If you still need to contact us please use the contact form above to get in touch, because of coronavirus (COVID-19). If you send it by post it will not receive a reply within normal timescale.
Published 9 November 2019