Government action on whiplash claims
Drivers struggling with rising insurance premiums will see Government action today.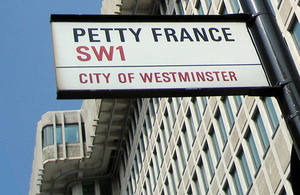 Mr Grayling today launched a consultation on new measures to bring down the number and cost of whiplash claims, including speculative and fraudulent applications. There were more than half a million whiplash claims last year - and insurers estimate they add £90 a year to the average motor insurance policy.
The Government is consulting on:
Creating new independent medical panels to improve diagnosis of whiplash injuries. This will ensure that genuine claims can still go ahead, but exaggerated, misrepresented or fraudulent claims are robustly challenged.
Options to allow more whiplash cases to be challenged in the small claims court - to change the current position where it can be cheaper for insurance companies to accept questionable claims than to contest them.
The Government has taken action after figures showed there had been a 60% rise in personal injury claims related to road accidents since 2006, despite vehicles becoming safer and a 20% reduction in the number of reported accidents over the same period.
Justice Secretary Chris Grayling said:
'For too long honest drivers have been bearing the price of a system that has been open to abuse and it is time for that to change.
'We are proposing action to support effective whiplash diagnosis by medical experts and to simplify procedures which will help bring speculative or fraudulent claims before a judge - so genuine claims can still be settled but fraudsters are left in no doubt there will be no more easy paydays.'
These changes are designed to tackle the excessive legal costs which too often mean it is cheaper for insurers to settle whiplash claims even if they suspect they are bogus - leading to higher premiums for all motorists.
This is latest stage of a series of significant civil justice reforms by the Government, designed to reduce legal costs and stop the growth of compensation culture in England and Wales.
Today's consultation complements law changes which will come into effect in April 2013. These include:
Rebalancing no-win no-fee deals so losing defendants will no longer have to pay a success fee or legal insurance premium to the claimant's lawyer.
Banning 'referral fees' where companies can profit from selling on someone's personal injury claim
Stopping claims management companies from offering money or goods as an inducement to make a claim through them.
The insurance industry has committed to passing on savings to consumers made from the Government's reforms to civil litigation costs. They estimated that whiplash claims cost £2bn in 2010 (£90 per policy).
Notes to editors
Take part in the consultation
Research suggests that Britain is the only country in Europe which has paid out as much in costs as it has in compensation for neck injuries in car accidents. The European comparison figures are sourced from a 2004 Comite Europeen Des Assurances study of minor cervical trauma in 10 European countries. This is independent research which is not validated by the Government. It shows 70% of Road Traffic Accident Personal Injury claims in the UK were related to whiplash, while the figure was 47% in Germany, 32% in Spain and 3% in France.
The number of compensation claims are published by the Department of Work and Pensions Compensation Recovery Unit. Of the 824,489 motoring personal injuries, 542,922 were recorded as whiplash claims.
The number of reported road accidents are published by the Department for Transport, see numbers published in December 2011 and February 2012. These reduced from 189,000 in 2006 to 151,000 in 2011.
The £90 figure above was published by the Association of British Insurers (ABI). The ABI also report that in 2011 there were 45,000 bogus dishonest motor insurance claims detected. Savings of £541 million were made by the industry from the claims uncovered.
While the Government records the number of compensation payouts, the legal costs in each case are a matter for the parties in individual cases.
The consultation proposes increasing the small claims threshold for personal injury claims in road traffic accidents from £1,000 to £5,000. This means that most whiplash claims would go through the small claims court, which is cheaper for users and would make challenging fraudulent or speculative claims economically viable for defendant insurers.
For more information, please contact the Ministry of Justice Press Office on 020 3334 3536. Follow us on Twitter @MoJPress.
Published 11 December 2012