Governance in Afghanistan: Marjah Council elections
The first ever District Community Council elections in Marjah symbolise the progress achieved in security and governance in this district of Helmand.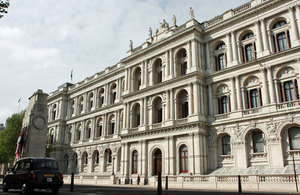 Established one year after Operation Mushtarak started, the District Community Council will consist of up to 35 members. It will link the community more closely to the provincial government in Lashkar Gah and national government in Kabul. In addition to giving the community, the Council's functions will include how to spend central government money on essential services such as schools and health clinics.
Speaking about progress in this area, Michael O'Neill, Head of the British-led Helmand Provincial Reconstruction Team, said:
"These elections are a powerful indicator of the progress achieved in Marjah over the past year. District Community Councils are an important part of representative governance to give local communities a voice and extend Afghan delivery of public services. The Marjah DCC is the sixth to be established in Helmand, from Garmsir in the south to Musa Qala in the north. These bodies reflect Helmand's strong tradition of participatory decision-making, and will contribute to an environment in which vibrant and peaceful local politics can flourish."
Decades of conflict had left the Province with few effective government structures. But with the support of the British-led Helmand Provincial Reconstruction Team (PRT), five District Community Councils have already been established in the Province, with more planned. The elections follow a 'shura', or meeting of elders, last month that was attended by over 1,300 district residents who came to hear Provincial Governor Gulab Mangal set out plans for the poll.
The Provincial Government's ambition of establishing a District Community Council in Marjah has been made possible by an improving security situation. Marjah's recent history was one of insecurity under the Taliban. But on 13 February 2010, Operation Moshtarak ('together' in Dari), a US-led military operation supported by Afghan, UK and NATO forces, began to clear the area of insurgent fighters, bring increased security and freedom of movement, and pave the way for reconstruction and development.
Published 2 March 2011