Press release
Good news for employers and staff as improved TUPE rules come into force
Improvements to make the process of transferring business ownership fairer and more effective have come into force today (31 January 2014).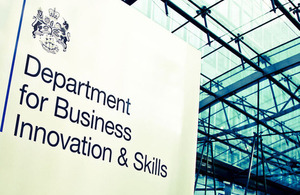 Changes have been made to the Transfer of Undertakings (Protection of Employment) Regulations (TUPE), which protect the employment terms and conditions of employees who are transferred from 1 organisation to another. The regulations have been improved to make sure both employers and staff are treated fairly when a transfer takes place.
Under the new regulations:
businesses will now be able to renegotiate terms and conditions in collective agreements 1 year after a transfer has taken place, provided that the overall change is no less favourable
micro businesses will be able to inform and consult employees directly when there are no existing appropriate representatives. Under existing TUPE regulations businesses usually have to inform, and sometimes also consult, employee representatives such as trade unions representatives; for micro businesses with 10 or fewer employees, there are often no representatives which means that they have to be specifically elected for this purpose; this change will make this process much less bureaucratic
the new employer will be able to engage in pre-redundancy consultation with employees, with the consent of the old employer
contractual changes will be permitted for economic, technical or organisational reasons with the agreement of the employee and or where a contractual right of variation exists
The regulations also clarify the existing law in a number of areas:
in cases where employees' terms and conditions are provided for in collective agreements, only the terms and conditions in the collective agreements that are in place before the date of transfer will apply; any future changes will not bind the new employer, unless it has taken part in the bargaining process that brought about the changes
the test for service provision changes will make clear that activities carried out after the change in provider must be fundamentally the same as those carried out by the previous person who has ceased to carry them out; this means that if businesses radically change the way they provide services, that change is unlikely to be subject to the TUPE regulations
Employment Relations Minister Jenny Willott said:
When a business is transferred from 1 company to another we want to make sure that TUPE continues to provide appropriate levels of employee protection, whilst making the process as smooth as possible for the businesses involved.

Making these changes will give businesses more clarity about conducting transfers and provide them with the tools to create new opportunities in the UK labour market, whilst protecting fairness for all.
Notes to editors
The TUPE Regulations are amended by the Collective Redundancies and Transfer of Undertakings (Protection of Employment) (Amendment) Regulations 2014), which come into force on 31 January 2014. These amendments do not extend to Northern Ireland and will apply in respect of transfers which take place on or after 31 January 2014.

Updated TUPE guidance can be found at Business transfers, takeovers and TUPE.

The changes to the TUPE Regulations form part of the Employment Law Review, started by BIS in 2010 and ending in 2015. The review is looking at all employment laws to make sure they offer maximum flexibility for employers and employees. This should encourage employers to take on more staff, supporting enterprise and growth.

The government's economic policy objective is to achieve 'strong, sustainable and balanced growth that is more evenly shared across the country and between industries'. It set 4 ambitions in the 'Plan for Growth', published at Budget 2011:
to create the most competitive tax system in the G20
to make the UK the best place in Europe to start, finance and grow a business
to encourage investment and exports as a route to a more balanced economy
to create a more educated workforce that is the most flexible in Europe
Work is underway across government to achieve these ambitions, including progress on more than 250 measures as part of the Growth Review. Developing an Industrial Strategy gives new impetus to this work by providing businesses, investors and the public with more clarity about the long-term direction in which the government wants the economy to travel.
Published 31 January 2014