World news story
Golf Diplomacy at the Hungarian Sustainability Golf Cup
From:

Part of:

Published:

14 September 2015
The British Embassy in Budapest promoted low carbon policies at the Sustainability Golf Cup in Hungary on 12 September 2015.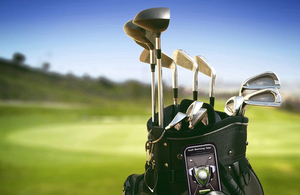 Taking the opportunity presented by the Sustainability Golf Cup in Budapest, our Post made it a priority to promote the economic benefits of low carbon policies as part of our strategic engagement and communications in the run-up to the Paris climate summit. The occasion further allowed UK Trade & Investment (UKTI) to benefit from networking opportunities with key decision makers and businessmen. We were glad to set the theme by providing a British keynote speaker for this unique sustainability event.
Deputy Head of Mission Adam Kettle-Williams, British speaker James Atkins, Deputy Head of UKTI Zsuzsa Némedi and Energy Attaché Kriszti Kocsis took participated in the event to meet over one hundred industry leaders, who came to engage in sustainability discourse. The event further supported a charity programme helping disadvantaged youth to take part in sustainable design workshops and provided a wonderful opportunity for networking and playing golf. The Embassy team met an extensive number of senior contacts on the terrace of the club house, ranging from energy sector CEOs to the Hungarian Deputy Foreign Minister.
British speaker James Atkins, author of the book 'Climate Change for Football Fans' outlined his interpretation of sustainability in a truly captivating way, emphasizing the responsibility of business leaders whose behaviour is copied by others. The brilliant speech spread from the security implications of climate change and its spur to bring about new industries, to vivid examples of how we can embed the environmental mindset in children. James has won the hearts of the audience and also the impressive first prize for the longest tee-shot despite of never trying golf before!
At the end of the day, we were invited by the CEO of the Hungarian industrial automation group, evopro, to test-drive the electric bus designed and manufactured by them. So we were busing VIP guests such as the former Environment Minister in the front garden of the club house.
Document information
Published: 14 September 2015