News story
GLS campus visits
The GLS will be visiting campuses during the 2016 to 2017 academic year
This news article was withdrawn on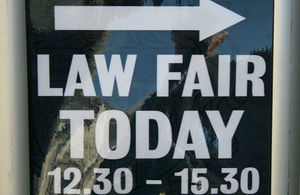 Law fairs are a good opportunity for students to find out more about the GLS, the work we do and the GLS Legal Trainee Scheme.
Law Fairs
The GLS will be attending 24 law fairs this autumn.
Please contact the universities listed below for further details about their law fairs.
| University | Date |
| --- | --- |
| University of Nottingham | 17 October |
| City University | 19 October |
| University of Sheffield | 19 October |
| University of Cambridge | 20 October |
| Queen Mary University of London | 25 October |
| University of Warwick | 25 October |
| King's College London | 27 October |
| London School of Economics | 27 October |
| Cardiff University | 1 November |
| Bristol University | 2 November |
| Bangor University | 2 November |
| University of Oxford | 5 November |
| University of Reading | 9 November |
| University of Birmingham | 9 November |
| University of East Anglia | 9 November |
| University of Essex | 10 November |
| University of Manchester | 15 November |
| University College London | 15 November |
| University of Southampton | 16 November |
| Durham University | 23 November |
| University of the West of England | 23 November |
| BPP Law School | 29 November |
| London Law Fair | 30 November |
| Nottingham Trent University | 25 January 2017 |
Published 22 October 2015