Press release
Gloucestershire man sentenced to 18 months in prison for waste offences
Today (Wednesday 14 January 2015), Alfred Booy, of Berkeley, Gloucestershire was sentenced to 18 months in prison at Gloucester Crown Court.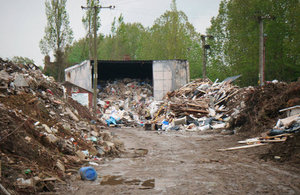 He pleading guilty on 27 November to 3 charges relating to waste and permitting offences. A Proceeds of Crime application in relation to this case has been adjourned to a later date.
The charges were brought by the Environment Agency under Regulations 12(1)(a) and 38(1)(a), and 38(3) and 41(1) of the Environmental Permitting (England and Wales) Regulations 2010.
This case relates to waste and permitting offences by Alfred Booy and the company he operated, A1 Green Recycling Limited, at two different waste sites in Gloucestershire.
Sharpness Waste Transfer Station
The first site is the Sharpness Waste Transfer Station on Bridge Road in Sharpness, Gloucestershire. In early 2010, Alfred Booy leased 2 areas of land which made up the site. The environmental permit, which authorised Booy's company to operate a household, commercial and industrial waste transfer station, was granted by the Environment Agency on 18 November 2010.
However, in October 2010, Booy was served with a notice to terminate the rental lease. Discussions then followed between the site owner and Booy where they gave him opportunities to clear the site. In May 2012, the site owner regained possession of the site, but despite Booy being allowed access after the eviction, nothing was done to remove the waste.
Following Alfred Booy's eviction from the site, his environmental permit was revoked. The Environment Agency served him with an enforcement notice requiring him to clear the site of waste and carry out a survey to ensure that it was not left in a contaminated state. This was not done and a further notice was subsequently served. To date no action has been taken by Booy or his company.
Bristol Road site, Dursley
The second site in relation to this case is located on Bristol Road in Dursley, Gloucestershire. In June 2012, Environment Agency officers visited the Dursley site following reports that waste was being taken there. They observed waste being brought in and sorted into different waste streams. They also saw that many of the skips and some the machinery displayed the A1 Green Recycling Limited livery. However, Alfred Booy said to officers that the vehicles on site had nothing to do with his company and were registered in his name. He would not attend an interview to clarify his position.
Environment Agency officers monitored the site on several occasions and saw vehicles carrying waste entering and then leaving empty. It was clear that the site was being operated as a waste transfer station.
During the times that Environment Agency officers visited the Dursley site, there was no environment permit in force, meaning that Alfred Booy's waste transfer station was operating illegally.
Sentencing comments
Speaking after the case, an Environment Agency officer in charge of the investigation said:
The defendant was given ample opportunity to clear the site at Sharpness but failed to do so. By leaving the site full of waste there was a potential risk to the environment and it left the landowners with a site that was unusable. Once Mr Booy left the Sharpness site he proceeded to move straight onto a new site which had no environment permit in place.
By avoiding regulation, Alfred Booy will have saved thousands of pounds. We do not tolerate waste crime and will not hesitate to prosecute in cases such as this.
When sentencing Mr Booy, His Honour Judge Ambrose told Mr Booy that these offences were so serious only an immediate custodial sentence could be justified.
In mitigation, Mr Booy told the court that he did not commit the offence deliberately, but admitted that it was a case of sheer naivety, being given poor advice and ultimately he was not competent to operate a business. He also told the court that he did not have sufficient funds to clear the site and that he had pleaded guilty at the earliest opportunity.
Published 14 January 2015