Global School pupils meet their adopted England stars
Young South African pupils with links to UK schools came face to face with their English football heroes on Monday.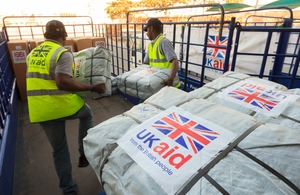 Three pupils from two DFID-funded Global School Partnerships (GSP) schools in the Rustenberg area - Leema Primary and Segakwana Primary, met David Beckham, Wayne Rooney, David James and head coach Fabio Capello.
They were part of a group of 80 children from five schools in the Rustenberg area in North West Province - four of them with GSP links - who watched England's final warm-up match against local side, Platinum Stars, as part of FIFA's Adopt a Nation scheme.
Under the scheme, the schools have adopted England in the classroom and on the sports field for the duration of the World Cup and beyond.
They had also had a presentation on English culture, landmarks, food, music and football by a team from DFID and the British Council, who manage the international education partnership.
Segakwana pupil Realeboga Ruele, 9, said:
I am so happy that I met amazing players like David Beckham and Wayne Rooney; they are my heroes.

I have learned so much about England; where it is and what I could see there.

I have also learned that the UK is helping things like HIV here and that is such a good thing because it will stop people dying.
Leema pupil Pogiso Ntuane, 14, said:
I think this has been the best, most exciting day of my life to meet my hero Wayne Rooney.

I knew England would win and I hope they play Bafana Bafana (South Africa) in the final!

It is great to learn about England and what they do in South Africa to help poverty and other problems. I hope children in England learn a lot about South Africa too.
Global School Partnerships supports teachers and students from UK to learn about global issues, through school partnerships with partners in Africa, Asia, Latin America and the Caribbean. Students work on joint classroom-based projects, with the aim of developing young people's commitment to a fairer, more sustainable world.
The programme is funded by UKaid from DFID and managed by the British Council, Cambridge Education Foundation, UK One World Linking Association, and VSO.
Published 8 June 2010