News story
Global innovation leader David Richards to speak at Innovate 2015
The founder of MIT Innovation Lab will tell delegates how to avoid the 7 sins of innovation and build a successful strategy for growth.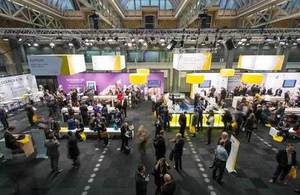 Entrepreneur and globally recognised business thought leader Dr David Richards is to lead a keynote session at Innovate 2015 on how to head innovation strategies and drive commercialisation, globalisation and growth.
Dr Richards, a Microsoft Ventures Mentor and founder of MIT Innovation Lab, will lead the session on day 1 of the event and will examine how human nature is undermining innovation.
He identifies the seven sins of innovation – aspects of human psychology that undermine innovation – and the corresponding virtues that can contribute to success. Dr Richards is author of 'The Seven Sins of Innovation: A Strategic Model for Entrepreneurship'.
Day 1 of Innovate 2015
Day 1 of Innovate 2015 will focus on the wide range of funding and support available to businesses and the help they can get to grow on a global scale.
Other key speakers on day 1 include Secretary of State for Business, Innovation and Skills Sajid Javid, and Facebook vice-president, Europe, Middle East and Africa, Nicola Mendelsohn.
Lord Bilimoria, founder of Cobra Beer and chairman of Molson Coors Cobra India, will reflect on his own business success in a session that looks at the keys to entrepreneurial success. He will offer his 5 tips for business success.
Helping business to succeed and grow
Day 2 will focus on the innovation capabilities of the UK and the regional funding and support opportunities available to help businesses succeed and grow.
Professor Sir Nigel Shadbolt, chairman of the Open Data Institute and an expert in the fields of artificial intelligence, computer science and web science, will be a key speaker in a session on how partnerships between business and research can drive economic growth for a nation.
Speakers that took part in the pioneering Evoque_E collaboration to develop hybrid and electric vehicles based on Range Rover models will head a session on the power of global partnerships.
More than 3,000 innovators, investors and academics
Innovate 2015 takes place on 9 and 10 November at Old Billingsgate in London, and is expected to attract more than 3,000 delegates from high-growth innovative businesses, the investment community, academia and government.
It is hosted by Innovate UK and UK Trade & Investment and is a global showcase for the best in UK innovation.
Businesses attending Innovate 2015 can find out about the wide range of research expertise and government support available to help them to deliver new products and services and to expand both at home and abroad.
There are also significant opportunities for informal and formal networking, including pre-arranged one-to-one meetings with buyers and investors.
Published 3 November 2015