News story
Global Disability Summit update - 15 June
Update from DFID's Head of Inclusive Societies with less than 50 days to go before the Global Disability Summit on 24 July 2018.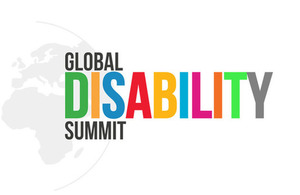 15 June: This week marks the point where we have less than 50 days to go before the Global Disability Summit 2018 (GDS18).
Alongside our co-hosts, the International Disability Alliance and Government of Kenya, we're on track to make GDS18 be a world-first and fantastic opportunity to celebrate the achievements and rights of people with disabilities, and one that creates an enduring impact, which results in lasting change for people with disabilities around the world.
To realise the full transformative potential of the day and the weeks and months that follow it, we need everyone to set the highest level of ambition, to be bold and brave in their commitment. So, we're working across a wide range of countries, with organisations and communities to ensure that they come to GDS18 with their most ambitious commitments on our key themes – tackling stigma and discrimination, inclusive education, technology and innovation, and economic empowerment.
Thank you for the efforts that many of you are putting in, not only to generate your own commitments, but also to lobby others; country governments, international agencies and private sector partners to do their very best.
An ambitious Charter for Change
That collective ambition and commitment will be captured at a summary level in the GDS18 Charter for Change, a ten-point charter that we want everyone attending to sign up to and that we'll publish at GDS18. We're testing content for the Charter this week at the Conference of State Parties for UNCRPD and will share it on this page before the end of June 2018. We must hold ourselves and others accountable for the commitments we bring and make so we're developing a process for ensuring that we can track implementation – again we will share this process more widely soon.
The GDS18 agenda is developing well: please read our programme outline. Central to the Summit's agenda is our principle and determination that people with disabilities will be at the heart of the programme. There will be fascinating speakers, discussions and displays throughout the day and the jigsaw of plenary sessions, breakouts, roundtables and a vibrant market place will all create an atmosphere that galvanises our efforts.
As some of you will know IDA are also hosting a one-day Civil Society Forum on the 23rd to leverage the opportunity to amplify the voice and participation of persons with disabilities, through their individual participation and that of representative organizations (DPOs). Read the IDA Civil Society draft agenda.
We've now sent out more than 750 invitations to donor and developing country ministers, senior figures in multilateral organisations, civil society and the private sector as well as significant numbers of people from DPOs. We are currently collating responses to those and may be in a position to extend invitation further shortly. We want to ensure the widest possible range of organisations are represented at the summit but logistical constraints have meant we have had to be strict with invitations. We will do our best to ensure that the event is live streamed to those who are unable to attend.
Please continue to support us through your networks and direct any questions you may have to globaldisabilitysummit@dfid.gov.uk
We very much value your continued interaction and support. I will update you all on progress in a fortnight or so.
Gerard Howe
Head of Inclusive Societies Department, DFID
Published 15 June 2018