Girls and women: International Day of the Girl
Today is the first International Day of the Girl to recognise girls' rights and the unique challenges they face around the world.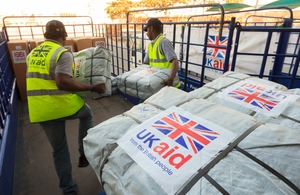 There are 250 million girls living poverty in the developing world. By giving girls greater choice and control over the decisions that affect them, we can help to break the cycle of poverty between one generation and the next.
The focus of the first International Day of the Girl is child marriage. Every three seconds a girl in the poorest part of the world is forced to marry against her will. 
We know educated girls are more likely to marry later, be able to choose when and how many children they have and earn higher incomes. Over the last year British aid has supported over 2.5 million girls in primary school and 260,000 girls in secondary school to help them fulfil their potential.
Commenting on International Day of the Girl Development Secretary Justine Greening said:
Development matters most to girls and women.

It is girls and women who die in childbirth because they don't have the medical care they need.

It is women who bear the brunt of stagnant economies, losing out on work opportunities first.

And it is women who struggle for an equal voice and participation in too many societies and governments.
Blog: "When we empower girls, everybody benefits."
Graça Machel, co-founder of The Elders with her husband Nelson Mandela, is a renowned international advocate for women's and children's rights. To mark International Day of the Girl, she blogs for us about child marriage, how we can stop it and a future where girls will be the ones changing the world.
  **Podcast: Women Win** 
UK aid is helping over 24,000 adolescent girls develop leadership skills through sport. Astrid Aafjes, founder and president of Women Win, explains how sport can help transform the lives of girls and women in the developing world - building confidence and educating and empowering girls and women to exercise their rights.
The girl effect
The UK Government is committed to improving the lives of girls and women in every area of our work, from education and maternal and child health, to safety and security and economic and political empowerment.
Girls need to be at the heart of everything we do if we want to help stop poverty before it starts. We know that getting girls into school begins a chain reaction of further benefits. Educated girls and women have better maternal health, fewer and healthier children and increased economic opportunities. They are also more likely to send their own children to school - creating a virtuous circle of opportunity and prosperity. 
How UK aid is helping one year on
Our vision for girls and women is based on four key areas to transform lives. These are:
Get girls through secondary school
Delay first pregnancy and support safe childbirth  
Prevent violence against girls and women
Get economic assets directly to girls and women
One year on from the vision, we looked at the results for our strategic vision for girls and women so far, and reflected on what we have achieved, the challenges and the way forward.
In the last year alone, the UK Government has:
Provided at least 740,000 women with access to financial services
Improved the rights to land and property for at least 210,000 women
Supported over 2.5 million girls in primary school, and 260,000 girls in lower secondary school
Ensured that 500,000 births were delivered with the help of nurses, midwives or doctors
Supported 1 million additional women to use modern methods of family planning
Delivered an historic global breakthrough giving access to family planning for 120 million women at the recent London Summit on Family Planning
Published 11 October 2012