Press release
Gilty Treasure
Culture Minister temporarily blocks export of rare centerpiece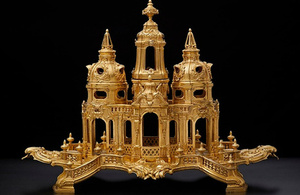 A stunning gilt bronze centrepiece, the only one of its kind in existence, has had a temporary export bar placed on it to provide a last chance to keep it in the UK. Unless a matching offer of £295,000 can be raised, the centrepiece will be exported.
It is the only known dated eighteenth-century centrepiece in architectural form executed in gilt-bronze. The centrepiece is of exceptional design and manufacture, and its design reflects the continuing European interest in experimental buildings which were often conceived as features in a landscape garden, or temporary structures built to celebrate a particular national event such as a royal birth or a military victory.
Centrepieces were the most expensive and important items in dinner services. They were flexible and adaptable table ornaments, providing a range of functions such as serving food and sugared sweetmeats, lighting the table and burning perfumes. An essential element of the very grandest English and European dining-tables by the 1730s, they remained a focus for inventive design throughout the 18th century.
Culture Minister Ed Vaizey took the decision to defer granting an export licence for the centrepiece following a recommendation by the Reviewing Committee on the Export of Works of Art and Objects of Cultural Interest (RCEWA), administered by Arts Council England. The RCEWA made their recommendation on the grounds that it was of outstanding aesthetic importance and outstanding significance for the study of the design and manufacture of luxury gilt bronze in England in the eighteenth century.
The centrepiece provides beautiful evidence of the international network of designers, craftsmen and retailers that promoted the exchange of designs across Europe and beyond. Never having been exhibited in public before, if it remains in the UK it would encourage research into the organization, production and export of gilt-bronze ornaments and figures when London was emerging as a centre for exporting and marketing of objects of art.
Culture Minister Ed Vaizey said:
"The centrepiece is a breathtaking thing of beauty, and hopefully the time granted by the export bar will allow a UK buyer to be found so it can remain here to be appreciated by all."
Philippa Glanville from the RCEWA said:
"This exquisite little table sculpture evokes the theatre of 18th century dining, when candle flames would play over its fantastical outline. It is a rare survival, and merits more research."
The decision on the export licence application for the centrepiece will be deferred for a period ending on 9 March 2014 inclusive. This period may be extended until 9 May 2014 inclusive if a serious intention to raise funds to purchase the centrepiece is made at the recommended price of £295,000 (net of VAT).
For media information contact:
Tamara Salhab Press Office, Arts Council England Tel: 020 7973 5189 or 07872 416679 Email: tamara.salhab@artscouncil.org.uk
Notes to Editors
Organisations or individuals interested in purchasing the centrepiece should contact RCEWA on 0845 300 6200.

Details of the centrepiece are as follows:
Gilt-bronze table centrepiece signed and dated 'D.R.Gastecloux inv.& exec.1768' 30.5 cm high; 43.5 cm wide; 24.5 cm deep.
The Reviewing Committee on the Export of Works of Art and Objects of Cultural Interest is an independent body, serviced by Arts Council England, which advises the Secretary of State for Culture, Media and Sport on whether a cultural object, intended for export, is of national importance under specified criteria.

Arts Council England champions, develops and invests in artistic and cultural experiences that enrich people's lives. Between 2010 and 2015, it will invest £1.9 billion of public money from government and an estimated £1.1 billion from the National Lottery to help create these experiences for as many people as possible across the country. www.artscouncil.org.uk
Published 10 January 2014