Press release
Gibraltar: European Commission mission returns to review border delays
Minister for Europe welcomes European Commission monitoring mission return visit to Gibraltar - Spain border.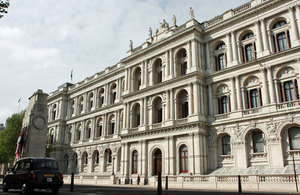 Minister for Europe David Lidington has welcomed today's return visit to Gibraltar by the European Commission to review progress towards addressing delays at the Gibraltar-Spain Border.
Mr Lidington said:
Delays at the border in recent weeks experienced by the people of Gibraltar and the Campo area were at totally unacceptable levels. I am pleased that the Commission responded to our lobbying for a return by the border monitoring mission. The UK Government has regularly raised border delays with the Commission since the beginning of disruption last summer, and we will continue to do so.

I visited Gibraltar this week and saw at first hand the positive and decisive steps which the Government of Gibraltar has taken to address the recommendations the Commission made to them seven months ago. It is now time to see real action from the Spanish authorities to implement the recommendations made to them, and for them to end the current regime of disproportionate checks.

The UK Government expects the Commission to ensure that the Spanish authorities act on the Commission's recommendations and return border checks to reasonable and proportionate levels. Gibraltarians are citizens of an EU Member State and their European rights must be fully respected.
Further information
The Prime Minister intervened with President Barroso in August 2013 when Spain imposed restrictions at the Gibraltar-Spain border, leading to excessively long queues in an out of Gibraltar. A European Commission monitoring team subsequently visited the border on 25 September 2013.
In November 2013 the European Commission followed up with recommendations for HMG and the Government of Spain aimed at easing the border delays. The Commission requested updates within six-months on action taken, and agreed to consider a follow-up visit if appropriate.
HM Government of Gibraltar has taken significant steps to address the Commission's border recommendations.
Delays at the border continue and peaked again recently. The UK continues to raise at a high-level with the European Commission, including with Commissioner Malmstrom and the Head of Cabinet to Commission President Barroso. HMG wants the Commission to put pressure on Spain to return border checks to reasonable and proportionate levels, and supports follow-up visits by the Commission's border monitoring team.
Follow Foreign Office Minister David Lidington on twitter @DLidington
Follow the Foreign Office on twitter @foreignoffice
Follow the Foreign Office on facebook and Google+
Published 2 July 2014