Gibraltar Defence Police welcome four-legged recruits
The Gibraltar Defence Police (GDP) have welcomed the latest recruits to the force - six working dogs.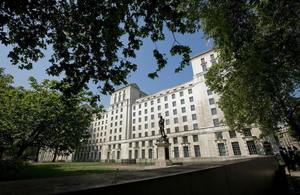 Aged between 18 months and three years, the dogs have now had a few days to acclimatise and get used to their new home in Gibraltar after arriving last week.
The four-legged recruits will join the newly-formed GDP Dog Section and comprise four Malinois, one Belgian Shepherd and one Dutch Shepherd.
The dogs made the journey from rainy Leicestershire to be teamed up with their handlers and begin their training to become fully-fledged police dogs over the next 12 weeks.
Training is being provided by two UK police officers, Sergeant Andy Gaunt and Constable Gary Phillips, both experienced dog handlers and police dog instructors from the MOD Police.
Sergeant Gaunt has been seconded to the GDP for two years to set up and lead the dog section and to provide the crucial continuation training during the vital early years.
Dogs and handlers have now commenced training together. Initially this involves building the crucial necessary bond between the dog and the handler.
Sergeant Gaunt has been impressed with the enthusiasm of the local officers:
The officers have been great. They have rapidly bonded with their dogs and built the critical trust between dog and handler as well as with the instructors.
As far as his own role is concerned, he commented:
This is a wonderful opportunity to set up a dog section from scratch. We are training to a UK standard but tailoring this capability specifically for Gibraltar and the environment in which dogs and handlers will operate.
Rob Allen, the Chief Police Officer of the GDP, said:
The formation of this dog section represents a significant investment in the GDP. The dog teams will be trained to the highest standards and will ensure that the GDP is even more effective in its role.
The creation of the GDP Dog Section is part of the MOD's Project Euston which sees tasks that are currently carried out by UK-based military personnel being transferred to locally-engaged civilian staff.
Published 17 July 2012