Gibraltar Defence Police learn advanced power boat skills
Chief Instructor Andy Benson of the Ministry of Defence Police's Clyde Marine Unit and the Royal Yachting Association Training Centre has been…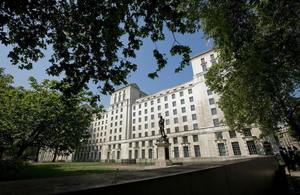 Chief Instructor Andy Benson of the Ministry of Defence Police's Clyde Marine Unit and the Royal Yachting Association Training Centre has been in Gibraltar to run a two-week advanced power boat course, using the GDP's Arctic 24 rigid inflatable boats, each powered by twin 200 horsepower engines and capable of speeds of 55 knots (102km/h).
As these rigid inflatable boats are capable of such high speeds, safety has been an important consideration throughout the training.
Chief Instructor Benson said:
The GDP officers have a lot of experience and loads of practical knowledge so my main task has been to update their theoretical background.

They are doing really well. I'm particularly impressed with their existing skills but they have been receptive to the training.
They've done everything I've asked of them with an open mind - and with smiles on their faces and they've been a pleasure to instruct.
Superintendent Rob Allen added:
The Marine Section was already well-trained, but we are fortunate to have a sister organisation in the UK which is at the forefront of marine policing and they train police officers to the very highest standard and certainly to the standard laid down by the Association of Chief Police Officers.

As a specialist force with particular capabilities such as the Marine Section, it is important that we have people trained to the highest possible standard.
Sergeant William Mellin, the GDP's Marine Co-ordinator, said:
It is a fantastic course and it standardises us with the UK.
"The students on this course are PCs Roydon Carrol, John Dalli, Stacey Rowbottom and Elliott Mor but we'll be running more courses later in the year to bring everyone up to this standard."
The Gibraltar Defence Police is a civil police force which guards and enforces law on Ministry of Defence installations in Gibraltar. Prior to 17 December 2009 it was known as the Gibraltar Services Police.
Published 10 June 2010