Getting rid of outdated labour restrictions will mean more jobs
Consultation on plans to disband the Agricultural Wages Board (AWB)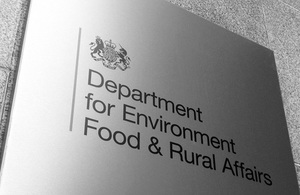 Plans to modernise the agricultural labour market could create almost 1,000 new jobs while keeping workers well protected, Farming Minister David Heath announced today.
The law governing agricultural wages will be harmonised with the rest of the economy, ending an anomaly requiring farmers to follow outdated and bureaucratic rules dating back to the beginning of the 20th Century.
Defra plans to disband the Agricultural Wages Board (AWB) - a panel setting pay that was abolished in all other sectors almost 20 years ago - bringing the industry into line with what is normal in all other areas of the economy.
Research shows that in line with the Government's work to reduce bureaucracy in the food and farming industry, farmers will save significant time, effort and costs in no longer meeting two sets of legislation.
This will lead to a more flexible market that it is estimated could free-up farmers to create up to 930 new jobs, generating more spending in local economies.
It will also make it far easier for employees to receive annual salaries, rather than hourly wages, in line with modern personal finance arrangements.
Mr Heath said:
"Agricultural wages boards were designed almost 100 years ago when conditions were very different to the modern age, and there was little to protect workers from unscrupulous employers. Now we have the National Minimum Wage and other employment protections, it's about time we got rid of a burdensome anomaly, saving farmers significant time, effort and money, generating up to almost 1,000 jobs, and allowing workers with top class skills to agree top class contracts with their employers.
"With a rapidly-growing world population, there are huge opportunities for British agriculture to prosper. These changes will go hand in hand with all the work we are doing to free-up farmers from unnecessary administrative burdens, allowing them to invest in their businesses and support the economy. I am determined to ensure that those who work in farm businesses can share in that success with the benefit of modern contractual arrangements"
The AWB sets minimum wage rates for six categories of agricultural workers in England and Wales. Under it, the current minimum wage is just two pence higher than the National Minimum Wage, but most workers already receive pay above the wage minimums.
The plans were today launched as part of a four-week public consultation.
Further information
Published 16 October 2012