World news story
'Get-together' First Chevening Summit in Cuba
The First Chevening Summit in Cuba took place on 25 and 26 January 2018. Chevening scholars from the island met to exchange views on their experiences in the UK.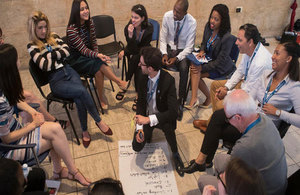 The event, the first of its kind in Cuba, was organised by the British Embassy in Havana and by Cheveners. Her Majesty's Ambassador Dr Antony Stokes and Catriona McArthur, Liaison Officer of the Chevening Secretariat, attended the summit.
The panels and workshop of the summit focused on leadership, the strengthening of the Chevening community and the need to articulate the contact network of Chevening scholars in Cuba.
Members of the panels included Jerome Cowans, Chevening Jamaica-Bahamas; Ximena Matus, co-founder and board member of Chevening Alumnae Association Guatemala; Andrew C. Griffith Chairman of Barbados Chevening Alumnae; Gerardo Vásquez President of the Mexican Chevening Alumnae Association and Marina de S. Guimares-Ybañez, Chevening Officer of the British Embassy in Angola. From Cuba, Chevening scholars Prof. Raúl Garcés, Dean of the Faculty of Communication of Havana University and Dr. María Elena Alfonso from the Hematology and Immunology Institute took part in the event.
A fantastic opportunity to strengthen links among Cheveners!
Published 2 February 2018