News story
Get involved in VJ Day 70
VJ Day commemorations are happening on and around 15 August across the country, with HM Government hosting a ceremony for veterans and their families in London.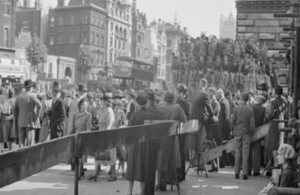 Veterans, civilian internees and their descendents
Veterans and civilian internees, along with their descendents and families, can attend a special VJ Day commemorative event at Horse Guards Parade on 15 August.
The event will begin in spectacular style with a flypast of three historic aircraft; a Dakota and Hurricane of the Battle of Britain Memorial Flight and a Royal Navy Swordfish, together with a current RAF Typhoon.
This will be followed by a drumhead service - a church service conducted "in the field" where no altar is available - a wreath-laying ceremony, and a reading of Rudyard Kipling's poem 'The Road to Mandalay' by famed actor Charles Dance.
Members of the public
London, Whitehall
Big screens will be made available in and around Whitehall so that members of the public can get involved in the Horse Guards ceremony and, and cheer our VJ Day heroes during the parade.
Military bands will also line the route during the parade and the flypast will pass overhead.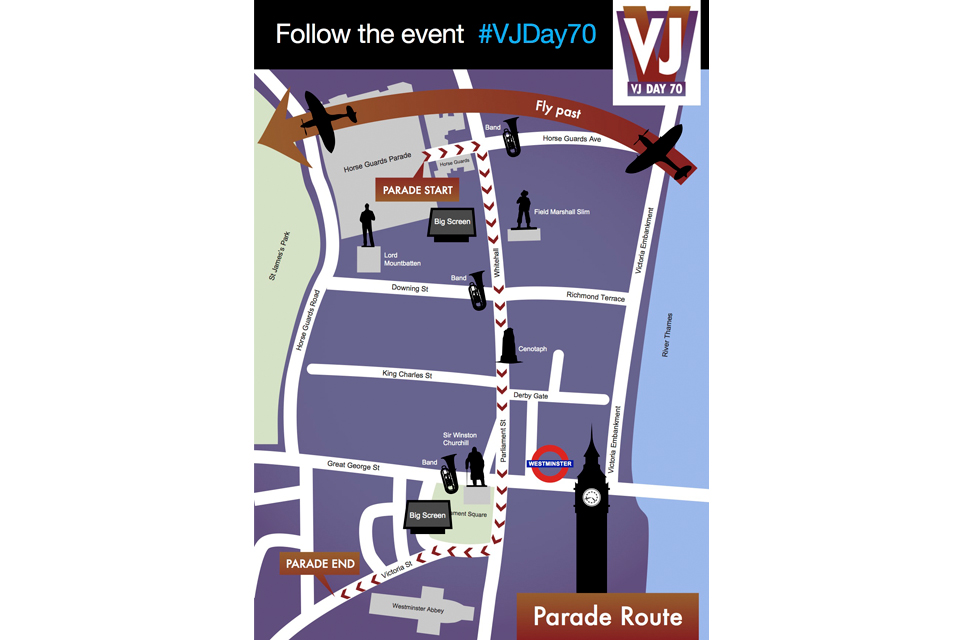 Staffordshire, National Memorial Arboretum
A service will be held on Saturday 15 August in the Millennium Chapel, followed by a wreath-laying ceremony.
On Sunday 16 August the Far East Prisoner of War Building will be rededicated followed by a wreath-laying at the Far Ear Prisoners of War Grove.
Lichfield, Lichfield Cathedral
A Service of Thanksgiving will be held on Saturday 15 August
Manningtree, Manningtree War Memorial
On Saturday 15 August - The Manningtree and District Royal British Legion Branch will hold a ceremony at the Manningtree War Memorial.
Derbyshire, Hayfield Village War Memorial
Hayfield Royal British Legion Branch will hold a Service of Thanksgiving and commemoration at the village War Memorial on Saturday 15 August.
Portslade, Easthill Park War Memorial
A Far East Prisoners of War Service of Remembrance will be held on Sunday 16 August at the Easthill Park War Memorial in Manor Road, Portslade, near Brighton.
Portsmouth, Guildhall Square
Portsmouth City Council will host a service at the Second World War Memorial, next to the Cenotaph in Guildhall Square on Saturday 15 August. The service will be attended by the Lord Mayor of Portsmouth, veterans, representatives from the Armed Forces and community organisations and will feature readings and a wreath-laying ceremony.
Live coverage of the commemorative events being held in London will also be shown on the Big Screen in Guildhall Square.
On Sunday 16 August a Choral Evensong will be held at Portsmouth Cathedral, High Street, Old Portsmouth.
Published 18 July 2015