General Richards to take over as Chief of the Defence Staff
Currently serving as the Chief of the General Staff, General Sir David Richards will take up the post of Chief of the Defence Staff in October…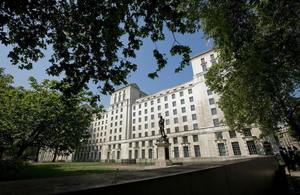 Currently serving as the Chief of the General Staff, General Sir David Richards will take up the post of Chief of the Defence Staff in October 2010.
The appointment has been approved by Her Majesty The Queen.
It has yet to be decided who will take over from General Richards as the Chief of the General Staff.
General Sir David Richards KCB CBE DSO ADC Gen
Born in 1952 and educated at Eastbourne College, David Richards was commissioned into the Royal Artillery in 1971 prior to studying international relations at University College Cardiff. Graduating in 1974 he spent the next nine years at regimental duty in the Far East, Germany and the UK (principally with 29 Commando Regiment RA and C Anti-Tank Battery Royal Horse Artillery) and on the staff of 11th Armoured Brigade in Germany. This period included three tours in Northern Ireland.
After attending the Staff College in 1984, he returned to 11th Armoured Brigade to command a field battery in 47th Field Regiment. From there he spent two years in Berlin as the Chief of Staff of the Berlin Infantry Brigade. Promoted to Lieutenant Colonel, he spent the next three years as an instructor at the Staff College, Camberley, before being appointed to command 3rd Regiment Royal Horse Artillery. This period included another operational tour in Northern Ireland. In 1994 he was promoted and appointed Colonel Army Plans in the MOD, responsible for the shape and size of the Army.
Promoted to Brigadier in 1996, and after attending the Higher Command and Staff course, he became Commander 4th Armoured Brigade in Germany. In 1998 he was posted to the Permanent Joint Headquarters as Chief Joint Force Operations, the UK's default one-star commander for short notice expeditionary operations. In this role he was involved in a number of operations, including commanding the UK Contingent in East Timor in 1999, and twice commanding a UK Joint Task Force in Sierra Leone in 2000.
Promoted to Major General, he was appointed Chief of Staff of the Allied Rapid Reaction Corps (ARRC) in April 2001 before becoming Assistant Chief of the General Staff in September 2002. Appointed to command the ARRC in January 2005, he served as Commander of the International Security Assistance Force Afghanistan between May 2006 and February 2007, a period that included NATO/ISAF expansion across the south and east of Afghanistan.
Given substantive promotion in January 2008, he took over as Commander-in-Chief UK Land Forces before assuming the appointment of Chief of the General Staff in August 2009. His operational awards include a Mention in Despatches, Commander of the Order of the British Empire, the Distinguished Service Order and Knight Commander of the Order of the Bath.
General Sir David Richards has a home in Wiltshire, is married to Caroline, and has two daughters (Joanna and Pippa). He is Honorary Colonel 3rd Regiment RHA, Colonel Commandant Royal Artillery, Colonel Commandant Brigade of Gurkhas, Chairman Gurkha Welfare Trust, Colonel Commandant Media Operations Group (Volunteers), President of Army Skiing, President of Army Tennis, and Admiral of the Army Sailing Association and the British Kiel Yacht Club. He is also Patron of Wiltshire Search and Rescue (WILSAR) and the Afghan Appeal Fund. A keen student of military history, he is a qualified offshore yachtsman, a governor of his old school, and an occasional horseman.
Published 14 July 2010