Gaza flotilla: Foreign Secretary welcomes call for investigation
Speaking on BBC News, Foreign Secretary William Hague welcomed the UN Security Council's call for a transparent investigation, and discussed the situation of British Nationals involved in the incident.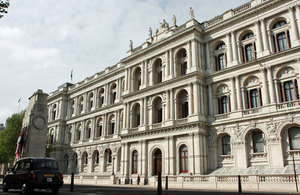 Speaking to the BBC on 1 June, following a meeting of the National Security Council, the Foreign Secretary said:
"I do strongly reiterate what we said yesterday, deeply deploring the loss of life, a point that the Prime Minister made very strongly to the Israeli Prime Minister Mr Netanyahu in his conversation with him yesterday. And we have supported and do welcome the UN Security Council deliberations…and statement overnight calling for a prompt and thorough and credible and transparent investigation of what has happened and of course we look to Israel to cooperate very much to implement that resolution…
"Our attention today is particularly on the British nationals…who have been involved in this incident. I've just spoken to our Ambassador in Tel Aviv. Our Consular staff have been visiting the British nationals involved this afternoon. The precise numbers are not absolutely definite because some people were travelling without passports or may have destroyed their papers, or may not yet have identified themselves as British. But as far as…we can determine at the moment there are thirty one British nationals who have now been detained by the Israeli authorities, one of whom has already been deported, and there are eleven dual nationals, one of whom was injured and was visited by Consular staff yesterday. So they are all in the process of being visited and Israel is giving us the appropriate Consular access as of course they should.
"This whole business has of course once again shone a light on to the situation in Gaza. It's underlined the need for a durable solution to the Israeli Palestinian conflict and to ensure that we don't now forget the overall position in Gaza, the need for Israel to implement and uphold UN Security Council resolution 1860 calling for the unfettered access of aid and commercial goods to Gaza."
The Foreign Secretary then went on to answer questions from assembled journalists. See a full transcript of the questions and answers.
Published 2 June 2010