Press release
Game on - the hunt begins for the UK's next big video game
Consider yourself the next Kojima? Ready to become the next Rocksteady? Maybe you've got the skills to become a future Meier?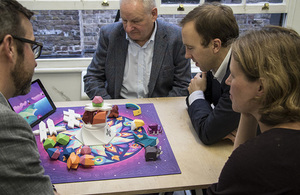 UK games developers could be in with a chance of securing up to £25,000 of government funding, as the hunt begins to find the UK's next big video game.
The UK Games Fund is inviting developers to apply for the grants in a bid to support video games projects and help develop new talent.
The fund, which in now its third round, has so far helped 50 developers from across the nation see their gaming dreams transformed into reality thanks to more than £1.3m in government grants.
Minister of State for Digital and Culture Matt Hancock MP said:
The UK is a world leader when it comes to making video games, and we're determined to make sure this continues long into the future.

Our UK Games Fund has already helped many young games companies turn prototypes into a reality. Together with the Government's video games tax reliefs this shows how we're supporting this dynamic sector to attract further investment and new talent.
The UK's video games sector plays a vital role in the country's thriving creative industries, which contributes £84 billion to the economy.
Video games developer Sensible Object, who successfully applied for funding from the first round of the UK Games Fund, have brought their game "Beasts of Balance" to life thanks to the government grant. About to be launched in retailers including John Lewis, "Beasts of Balance" is an ambitious mixture of a physical tabletop and digital game in which players stack beast-shaped pieces into a balancing tower that's scanned by a connected smartphone or tablet.
On a visit to the Sensible Object studios in Somerset House, the Minister was shown how the developers have developed their designs and are now bringing them to market.
Alex Fleetwood, Sensible Object founder, said:
Launching any venture is fraught with risks, but creative businesses like game companies come with even more challenges and the UK Games Fund is a very timely form of support for those that hope to grow and succeed in that area.

The fund is well-run, straightforward to apply for, and clear in its decision-making, making it a valuable asset to game companies like ours and the industry as a whole.
The Government's UK Games Fund is aimed at supporting new video games businesses, encouraging talent, accelerating growth in regional games clusters and complements UK's video games tax relief. Many small businesses lack the capital to help develop their ideas and attract private investment. The Fund has been created to help bridge that gap and help developers take their ideas from the drawing board and into production.
Paul Durrant, head of the UK Games Fund, said:
We're really excited about this funding round, given the high demand and the quality of projects we've seen so far. It's also good to see the success stories arising from our support. Sensible Object's rapid progress shows just what we can achieve when we assist the UK's top games development talent.
Dr Jo Twist OBE, CEO of Ukie, said:
The UK is home to some of the world's best and brightest creative games talent, and support from the UK Games Fund has already helped many projects get a much needed boost towards development and funding. The fantastic games that have already emerged from previous rounds shows what a huge asset this fund is to the games sector in the UK, and Ukie is proud to continue supporting the project through this next round.
To apply for funding visit the UK Games Fund website
Media enquiries - please contact the DCMS News and Communications team on 020 7211 2210.
Notes to editors
The UK's video games sector plays a vital role in the country's thriving creative industries, which contributes £84 billion to the economy.
The UK has a long history of making world class video games. With the global games market expected to grow from $91.8bn in 2015 to a total of $118.6 billion by 2019 (Newzoo)
The UK was estimated to be the 6th largest video game market in 2015 in terms of consumer revenues, after China (ranked 1st for the 1st time), USA, Japan, South Korea and Germany. The UK is forecast to retain its 6th place up to at least 2018. (Newzoo)
The UK games industry was worth nearly £4.2bn in consumer spend in 2015, up 7.4% from £3.94bn in 2014
Since its introduction in 2014, more than £45 million in tax reliefs have been paid out for video games, supporting more than £417 million expenditure in the UK.
Published 31 October 2016