News story
Future manufacturing and materials: apply for funding
As a UK business you can apply for a share of £15 million to develop solutions to the challenges of future manufacturing and materials.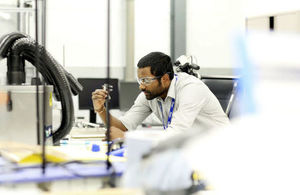 Up to £15 million will be made available by Innovate for UK businesses to work on innovative projects in the manufacturing and materials sector.
Creating a competitive advantage
New manufacturing processes and materials can be a source of global competitive advantage. The UK already has a strong position. It is the ninth largest producer in the world with an output of $247 billion. This competition aims to support manufacturing and materials as enablers of product innovation.
We are looking to fund projects that tackle identified technical and commercial challenges. These should lead to increased productivity, competitiveness and growth for UK small and medium-sized enterprises.
Focus areas
Applications should focus on innovations in:
manufacturing systems, technologies, processes or business models, such as new product introduction processes or remanufacture
materials development, properties, integration or reuse. Materials could include nanomaterials, ceramics, metals and inter-metallics, polymers, composites, coatings, smart materials and joining of dissimilar materials
Competition information
the competition is open, and the deadline for registration is midday on 12 July 2017
project should range between £50,000 and £2 million and last between 6 months and 3 years
projects must be led by a business and involve at least one SME
projects longer than 12 months or with costs of more than £100,000 must involve 2 or more businesses
businesses could attract up to 70% of their total project costs, depending on their size
Published 14 June 2017