Future funding for the Westminster Foundation for Democracy
Foreign Secretary William Hague has updated Parliament on plans for continued funding for the Westminster Foundation for Democracy.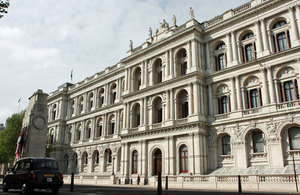 In a written statement to Parliament the Foreign Secretary said:
"I wish to inform the House of the Foreign and Commonwealth Office's plans for continuing support to the Westminster Foundation for Democracy (WFD). I am also able to inform the House that my Right Honourable Friend the Secretary of State for International Development has also agreed to provide additional funding to WFD.
The FCO will provide WFD with funding of £3.5 million for 2012/13 and plans to provide them with similar sums for 2013/14-2014/15, dependent on future performance across all aspects of their work. The Department for International Development (DFID) will provide WFD with an accountable grant of £6 million over the next three years (2012/13-2014/15), which is the first time DFID has provided funding to WFD in this way.
WFD delivers an important service in its work to strengthen parliaments and provide assistance to political parties to support democracy across the world. The promotion of multi-party democracy, good governance, transparency and accountability help to support the UK government's priorities and the UK national interest.
The joint support of our two departments will help WFD to become a more efficient, effective, and evidence-based organisation and to achieve greater impact with its important work."
Published 14 March 2012