Future Fleet aviators fly from Fife
A group of aspiring Royal Navy aviators recently had the opportunity to fly at RAF Leuchars in Fife.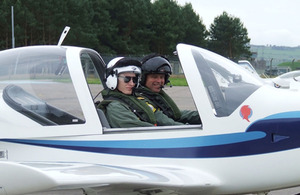 The detachment from 727 Naval Air Squadron (727 NAS) flew into the RAF station from Royal Naval Air Station Yeovilton in Somerset for a few days of Air Experience Flying (AEF).
727 NAS conducts the Royal Navy's Initial Flying Grading using two-seat Grob Tutor training aircraft. All aircrew in the Fleet Air Arm must learn the basics in 'fixed-wing' aircraft before moving on to more specialist training; even helicopter pilots and observers.
Lieutenant Commander Glenn Allison, Commanding Officer of 727 NAS, said:
727 Naval Air Squadron has been providing Air Experience Flying to potential officers and cadets for a number of years now. For some it is their first opportunity to experience the thrill of flying.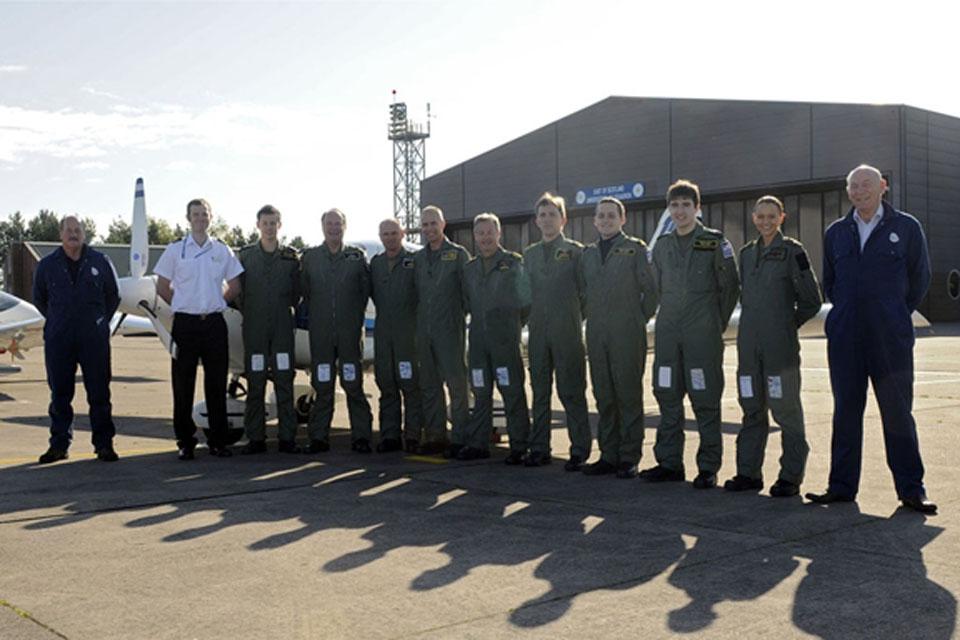 The retirement of the Harrier fleet has not stopped the Royal Navy's search for potential fast jet pilots. There is a lengthy training pipeline for any pilot and, with the UK having just taken delivery of its first F-35B Lightning II aircraft, the clock is ticking down to the day when Fleet aircrews fly the first of these fifth-generation stealth jets off one of the two new aircraft carriers currently under assembly in Rosyth dockyard.
The prospective aviators taking part in the AEF at Fife are at various stages of the application process to join the Royal Navy. The experience gained during their flights will have given them a better understanding of what lies ahead:
Potential candidates receive instruction during their sortie and are required to replicate manoeuvres taught to them," said Lt Cdr Allison. "This allows us to provide some useful feedback to them that will hopefully help them in their future endeavours.
Having a class of keen, fresh ears provides some additional perks for the instructors:
The opportunity to 'spin dits' and talk to [students] about flying training, and the interesting and hair-raising moments we have had in our careers, seems to be well-received," said Lt Cdr Allison.
Among those 'spinning dits' to the eager students was Royal Marines Commando Helicopter Force pilot Lieutenant Ashleigh Sturt, currently serving in Scotland:
It was really good to meet the future pilots and aircrew of the Fleet Air Arm," she said. "We do some extraordinary flying in the Royal Navy, whether it's at sea from the back of a warship or, as in my case, from the deserts of Afghanistan. You couldn't ask for a more exciting career!
Visiting Fife with the detachment was ex-staff pilot Commodore Martin Westwood who, these days, deals with aviation policy for the Royal Navy. He said that flying with the Fleet Air Arm could be uniquely challenging:
There are days when you realise you have the best job in the world and you have great fun, but there's also days when you absolutely earn every penny.
Published 3 August 2012