Fusiliers receive Afghanistan operational medals
The soldiers from X Company, 1st Battalion The Royal Regiment of Fusiliers, deployed to Helmand province in October 2010 to undertake a particularly…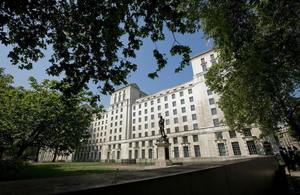 The soldiers from X Company, 1st Battalion The Royal Regiment of Fusiliers, deployed to Helmand province in October 2010 to undertake a particularly testing role, not only having to replace injured soldiers, but doing so with a different regiment and soldiers who had trained and worked together for a year leading up to deployment.
Captain Matthew Selby, who deployed as a ground-holding platoon commander with B Company, 5th Battalion The Royal Regiment of Scotland, in Nahr-e Saraj, replacing the previous commander who had been injured, said:
I won't lie, it is daunting because you have never met any of them before and suddenly you are thrust into the operational environment which, as everyone knows, can be very dangerous.
"But it doesn't make any difference to the responsibilities you have as a platoon commander, so regardless of if I had known them for ten seconds, as I had, or for ten months, your responsibility and your job is still the same.
You still have to perform to the same standards, and actually the place where you are going to bond and bond most quickly is on operations.
Captain Selby stayed with B Company for five months, where their role was to secure the village of Rahim:
While we were there we refurbished and opened a school, and a police station has just opened, but we also ran a lot of interference operations and disruptions further to the north of the village where the insurgents were. It was very much a tour of two halves," he said.
The locals in Rahim were really pleased to see us, they understood what we were trying to do and they understood what the Government of Afghanistan was trying to do and they wanted us there. They wanted our help and they wanted to help themselves.
But just a few kilometres north the locals were much more intimidated by the insurgents where there was a strong Taliban presence. We were quite busy there striking compounds and IED factories in an effort to disrupt the insurgents and prevent them from having an effect in Rahim.
Despite being the 'new boys' in theatre, the soldiers of X Company were able to fit in well into the battle position.
Fusilier Anthony Franklin, who joined the paratroopers in Afghanistan when one of their own soldiers was injured, said:
I think that every soldier believes that no matter who he is serving with will always look out for the guy he is working with.
I was lucky in a way because I'd seen the soldier I was relieving and knew he was going back home to the UK and would be fine, so in my mind I knew I was taking over from someone who was OK and I just had to crack on and do what I had to do.
But no matter if you have been working together for a day, two days, two weeks or two months, I don't think that it really matters how long you have worked with them; as long as you work hard for them, they will work hard for you.
Thirty-eight soldiers from X Company were presented with their medals during a parade attended by friends and family, which also commemorated the 252nd anniversary of the Battle of Minden (1st of August) when soldiers of the 20th Foot, who went on to become the Royal Regiment of Fusiliers, struck a decisive victory over their French enemy in 1759 during the Seven Years' War.
Published 5 August 2011