World news story
Further Strengthening the Canada-United Kingdom Partnership
Foreign Secretary William Hague meets with Canadian Foreign Affairs Minister John Baird during his visit to Ottawa.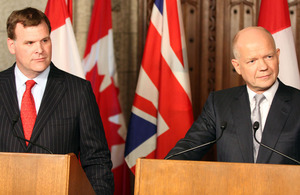 Foreign Secretary William Hague met with Canadian Foreign Affairs Minister John Baird today to review and refresh the Canada-UK Joint Declaration agreed by Prime Ministers Stephen Harper and David Cameron in September 2011.
"Canada's relationship with the UK is deeply rooted in our common history and shared values," said Minister Baird. "In the last year, our strategic partnership on a range of global issues has only strengthened."
In advance of next week's United Nations General Assembly, John Baird and William Hague discussed a number of pressing global issues - notably Iran and Syria - and the Commonwealth reform agenda.
The two men also signed a Memorandum of Understanding on 'Enhancing Mutual Support at Missions Abroad.' The agreement will see Canada and the United Kingdom make the most of their respective diplomatic resources by exploring further co-location, as well collaboration on consular services.
"This is about increasing Canada's diplomatic reach in a handful of areas where we don't already have a presence," said Minister Baird. "Canada will be sharing space, as we do with other trusted countries, to get maximum reach at minimal cost to taxpayers. We will do so while maintaining our principled, independent foreign policy."
Minister Baird highlighted Canada's commitment to concluding a free trade deal with the European Union to help create jobs, growth and long-term prosperity.
"The Canada-UK commercial relationship is highly valued, and one that a Canada-EU Comprehensive Economic and Trade Agreement will only enhance."
He added: "It will spur new growth, more jobs and improved economic prosperity on both sides of the Atlantic."
The Foreign Secretary emphasized Britain's commitment to working with Canada on our foreign policy priorities, especially the continuing crisis in Syria.
He said "We committed today to work even more closely together across the broad range of our bilateral relationship, and in particular on Syria, the most pressing international issue on our common agenda. We agreed to collaborate to ensure safe and unhindered access to humanitarian actors, and to continue to encourage the UN Security Council to take firm action to support a political solution"
The Minister and Foreign Secretary also discussed the situation of British pensioners in Canada, whose UK Government pensions are not indexed to inflation.
The two ministers committed to staying in close contact on matters of mutual interest and concern.
Published 26 September 2012