Government response
Further statement on future of Hillsborough Castle
The NIO responds to recent media coverage of its negotiations with Praxis Care over the future of the Secret Garden café at Hillsborough Castle.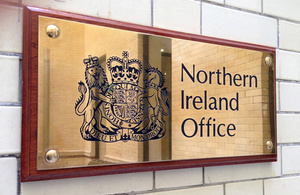 The Northern Ireland Office deeply regrets the large amount of misinformation being circulated about our relationship with Praxis Care and negotiations regarding the future of the charity's facility in the Walled Garden at Hillsborough Castle.
The NIO very much appreciates the work done at Hillsborough by Praxis over a number of years. The Secret Garden café has provided important employment opportunities for people with learning disabilities and played a valuable role in their recovery process. For that reason, the NIO provided Praxis with very generous terms over several years, including an annual rent of just £1 and significant additional financial assistance. However, this arrangement was never open ended. This was always made clear to Praxis and was understood by them.
In March 2013, as part of plans to redevelop Hillsborough Castle through a partnership with Historic Royal Palaces, the NIO gave notice to Praxis to vacate the site in the Walled Garden. We offered to assist them with securing alternative accommodation in the area, but made clear that the NIO's reduced budget meant it was not possible to provide further financial support. This was accepted by Praxis at the time. They confirmed they needed one month's notice to leave the Walled Garden and stated categorically that they were not seeking any financial assistance for this.
In April 2013 Praxis advised us that they were already exploring alternative sites in the Hillsborough area and asked the NIO for £25,000 to help with a feasibility study. Praxis Care is a charity with a revenue stream of £26m per annum operating in dozens of locations throughout Northern Ireland. The NIO has a much smaller budget and, given our financial constraints, it was explained to Praxis that this request for funding could not be met.
We remain of the view that we provided sufficient time for Praxis to find alternative arrangements for the Secret Garden café and to prepare its clients for the move. We therefore deeply regret that Praxis now appears to be demanding a permanent presence at Hillsborough Castle, or even greater sums in compensation to leave.
However, having discussed the situation further with Historic Royal Palaces, the NIO is willing to be flexible about the timescale for Praxis leaving the Walled Garden. We would welcome the opportunity to engage in dialogue about this as soon as possible. We also wish to work with Praxis to help identify other possible locations where their clients could be employed. And Historic Royal Palaces is open to discuss working with Praxis and other charities in the future.
While we understand the concern felt by many members of the public about this situation, it must be recognised that continuing the status quo at Hillsborough Castle is simply not an option. The NIO has neither the finance nor the professional expertise to continue managing the castle and enable its full potential to be realised. That's why we have entered into an arrangement with Historic Royal Palaces, who have a proven track record in developing top class visitor attractions, like the Tower of London and Hampton Court Palace, giving millions of people the chance to enjoy them while conserving their unique heritage and special character. Historic Royal Palaces' plans for Hillsborough mean the house and gardens will be enjoyed by more than 200,000 visitors each year, with scope for a range of charities to use its facilities. This will create additional jobs and provide a significant boost to the local economy in Hillsborough and more widely in Northern Ireland. Unfortunately Praxis must move out for Historic Royal Palaces to build the necessary infrastructure for these major changes. The only alternative would be inevitable decline of the castle and increasing pressure to look at other commercial options for this historic site.
Published 18 February 2014