Council Tax freeze: questions and answers
Questions and answers on the Council Tax freeze, the government's scheme to help councils freeze their Council Tax Bills.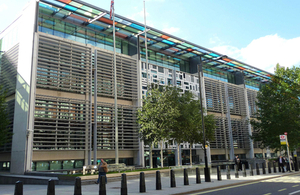 What was announced about Council Tax?
The Chancellor of the Exchequer, George Osborne announced new support for local authorities to help them freeze Council Tax next year (2012 to 2013). Council Tax bills have more than doubled since 1997. This is the second year Council Tax will be frozen giving help to families and pensioners in difficult times.
How much will this save on someone's bill?
Local taxpayers living in an average Band D home in England could save up to £72 when compared to 5% rise in Council Tax.
What do you mean by a 'freeze'?
A 'freeze' means no increase in the amount of Council Tax individual taxpayers have to pay, as measured by the Band D Council Tax in an area.
Where is the money coming from?
There is an area of central government underspend which we are using to support households with their Council Tax. This funding is coming from within existing spending.
Why give councils extra money? Wouldn't it be better spent elsewhere?
Freezing Council Tax will provide help hard-pressed families in these difficult times. Local authorities who freeze or reduce their Council Tax in 2012 to 2013 will receive additional funding to help pay for the freeze. This additional money will also help councils protect local services.
How will it work?
The scheme will be voluntary, but last year every council signed up to the scheme.
Councils that freeze or reduce their 2012 to 2013 basic Council Tax level (Band D) will receive an additional grant equivalent to 2.5% increase on their Council Tax for this year.
Police and fire authorities will receive a grant equivalent to 3% increase. Further details will be announced in due course.
How much will the freeze cost?
The government has set aside a total of £805 million for this measure. Of this £675 million will go to help local authorities in England freeze their Council Tax next year on top of this year's freeze.
Scotland will receive £67.5 million, Wales £38.9 million and Northern Ireland £22.6 million. However, as devolved administrations they make their own decisions on Council Tax.
Published 3 October 2011