News story
Further boost for sustainable transport schemes
Local authorities receive a further £2 million under Local Sustainable Transport Fund.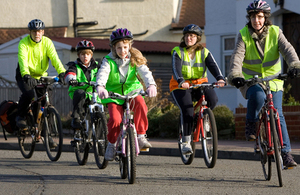 The Department for Transport is giving extra funding to 9 transport schemes building on their success in encouraging more sustainable travel choices, Baroness Kramer has announced.
Schemes will show how sustainable transport is benefiting communities across England, like a campaign to encourage parents to leave their cars at home for the school run in favour of cycling with their children, or a scheme that helps those out of work by providing them with bicycles and subsidised public transport to make it easier to access employment.
Transport Minister Baroness Kramer said:
These successful schemes have changed how people travel, with communities now making healthier and greener choices.

Dozens of great projects have been delivered already under this fund and I'm glad we've been able to support more today (17 April 2014).
The schemes receiving funding are:
Tyne and Wear: £609,000 for a scheme encouraging families to use push bikes for the school run and £295,000 to make cycling, walking and using public transport more appealing and simpler on the A1 Western Bypass corridor - this project aims to help more people looking for work to access prospective employment
West Yorkshire: £590,000 towards a project that will help jobseekers access work
Worcestershire: £110,000 to build on a previous successful scheme, making it easier to get about on foot and by bike in Redditch
York city: £100,000 to continue a successful programme of helping households access more sustainable transport
Warwickshire: £92,000 for a scheme to encourage more residents and tourists in Stratford-upon-Avon to make use of bikes and the town's cycle facilities
Staffordshire: £85,000 towards a scheme helping people access jobs, training and services
Southend-on-Sea: £80,000 to encourage people to walk, cycle and use more public transport
Luton: £75,000 to improve facilities for those walking, cycling and using public transport
The schemes benefiting from funding from the Department of Transport will be supported by local contributions totalling £1.6 million.
News desk enquiries
Press enquiries 020 7944 3021
Out of hours 020 7944 4292
Switchboard 0300 330 3000
Published 17 April 2014