News story
Funding to tackle knife crime
More than £18m to tackle knife, gun and gang crime has been announced by the Home Secretary today.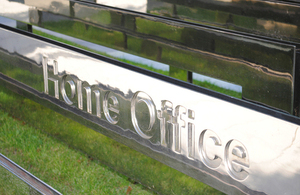 This follows a report into knife crime by former Eastenders actor Brooke Kinsella, whose brother, Ben, was killed three years ago.
Three key areas
Police forces areas where more than half of the country's knife crime occurs - London, Manchester and the West Midlands - will receive £3.75m.
Meanwhile, £4m will support a 'communities against gangs, guns and knives' fund - for local voluntary organisations across England and Wales.
And £10m has been set aside to fund activities with young people identified as being at risk of becoming involved in crime.
The Ben Kinsella fund for young peope to run anti-knife crime projects in their local area has received £250k. Read the press notice.
Highlighting what works
At a speech at London's Policy Exchange today, Theresa May thanked Miss Kinsella for her work that she cares 'so passionately about'.
The Home Secretary added: 'I'm delighted to announce that off the back of Brooke's recommendations we will invest money into changing attitudes and behaviour, alongside being tough on those who persist in being involved senseless crimes.
'This new funding will support vital police work where it is most needed and most importantly help young people and local voluntary organisations working at the heart of our communities.'
Inspirational people
The anti-knife crime campaigner was asked by the Home Secretary and the Prime Minister to assess the effectiveness of work designed to keep young people away from violent crime.
Miss Kinsella said she has met many inspirational people during the course of her project. 'My report builds on their experiences and recommendations and I am glad it has informed the government's plans for tackling knife crime,' she said.
'I know that most young people are hard working and law abiding, and I want to make sure no other family has to go through what my family went through.'

Published 2 February 2011