Funding for tackling domestic violence
Home Secretary allocates more than £28 million for specialist services to tackle violence against women and girls until 2015.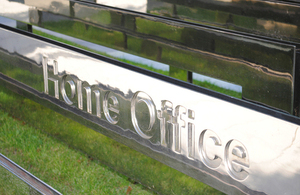 On International Day for the Elimination of Violence Against Women, Theresa May has confirmed that services which support victims of sexual and domestic violence will continue to receive Home Office funding.
This includes local domestic and sexual violence advisors, services for high-risk domestic violence victims, national help lines and work to prevent forced marriage.
Launching a cross government plan today, the Home Secretary said: 'Our aim is clear; we want to end violence against women and girls. We must ensure offenders are brought to justice, victims are given support and most importantly challenge attitudes and behaviour. 
 
'Too often this hidden crime sees victims afraid to seek support. That is why Home Office funding for frontline support services will be protected for four years. 
 
'Ending violence against women is a priority for me but central government cannot solve this complex problem alone. I want to send a clear message to local agencies - including police, councils and the health service - that tackling violence against women should be a priority for them too.'
Four key areas
Today's plan focuses on the following areas:
prevention of violence including reducing repeat victimisation
provision of support
bringing together of groups to work in partnership and action to reduce risk by ensuring perpetrators are brought to justice
And for the first time the strategy brings together work to tackle violence against women in the UK with details of the international approach to tackle this global problem. 
  
A full plan of action will be published next spring.
Domestic violence protection orders
Meanwhile, the coalition government has also confirmed that four police forces will be given the power to use Domestic Violence Protection Orders from next summer.
Twelve-month pilot schemes operated by Greater Manchester, Wiltshire and West Mercia forces will give officers the power to protect victims in the aftermath of an attack.
Civil Orders will prevent alleged abusers from having contact with the victim or from returning to the victim's home.
This will initially last for 48 hours after which a court can rule on a longer period - normally 14 to 28 days.
 
Similar schemes already operating in Austria, Germany, Poland and Switzerland have been successful.
Find out more
Read more about the government's strategic vision and the work planned over the coming spending review period.

Published 24 November 2010