Press release
Funding Central boost delivers continued support for civil society
A site providing information and advice on funding for charities, voluntary groups and social enterprises will be available for 18 months.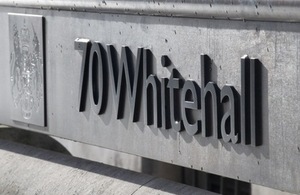 5 September 2012
CAB 087-12
Charities, voluntary groups and social enterprises will be able to access the latest information and advice on funding after the Cabinet Office committed £500,000 to extend the Funding Central website for a further 18 months, Minister for Civil Society Nick Hurd announced today.
The agreement with the National Council for Voluntary Organisations (NCVO) guarantees the continuation of a valuable information service that provides free guidance on grants, contracts and loan finance to civil society organisations, and highlights opportunities for public service contracts and a range of other sustainable funding streams.
The website, which is managed by NCVO and has been funded by the Cabinet Office since 2010, has 50,000 registered users.
Minister for Civil Society Nick Hurd said:
Last week I published a progress update outlining how the government intends to work with civil society to deliver better regulation, better support, and better skills. Our agreement with NCVO to extend Funding Central until March 2014 is a practical and meaningful demonstration of our commitment to the sector and a vote of confidence in a proven and valuable resource.
Sir Stuart Etherington, Chief Executive of NCVO, said:
I am delighted that we have had the green light to continue providing this important service, and passing 50,000 users gives further cause for celebration. Funding Central is a shining example of a successful partnership between the public, private and voluntary sectors. In its lifespan the service has added real value and connected a diverse range of organisations with opportunities to grow and diversify their income.
In August the Cabinet Office published a document outlining its work to make it easier to set up and run charities, voluntary organisations and social enterprises. This referred to discussions with NCVO on how best to sustain and improve the service provided by Funding Central so that it fully meets the needs of civil society sector organisations and can help even more of them to find funding.
The decision to extend the website for a further 18 months was taken on the basis of information which showed that Funding Central was the most commonly used web resource for civil society organisations to find information on funding, with over £100 million being secured through the service last year, according to NCVO estimates.  The website proved particularly valuable for small frontline charities seeking to secure low level grants and contracts.
Notes to editors
The precise grant from the Cabinet Office to cover the contract extension period is £496,808. The Funding Central website can be found at www.fundingcentral.org.uk

For further information or to request an interview with Nick Hurd, Minister for Civil Society, please contact the Cabinet Office press office on 0207 276 2234

For more information from NCVO, please contact Mandy Murphy in NCVO's press office on 07714 243 942 or email mandy.murphy@ncvo-vol.org.uk

NCVO statistics for Funding Central usage:

50,000 registered users (over 1000 new registrations per month) as of Sept 2012;
76,727 searches for grants contracts and loans (year to Sept 2012)
There were 35,000,000 web hits and 572,000 visits in year to Sept 2012 (up from 25,000,000 hits/290,000 visits in 2009-10)
1,344 new funding opportunities were added, with a total estimated value of £2.2bn (year to March 2012); and
34, 857 grant searches, 25,500 contract searches and 5,677 searches for loan finance were conducted (year to March 2011)

NCVO Funding Central user survey results (December 2011):

Over 80% are satisfied and nearly 90% would recommend Funding central;
64% have applied for funding from Funding Central, and 23% of those secured some funding;
The average amount secured was £35,068 (of those that got funding, updated June 2012);
70% of users rate Funding Central highly on everything;
65% of users said it has saved them some time.

The National Council for Voluntary Organisations (NCVO) is the umbrella body for the voluntary sector in England, with sister councils in Wales, Scotland and Northern Ireland.  NCVO has over 8,400 members, ranging from large national bodies to community groups, volunteer centres, and development agencies working at a local level. With over 280,000 staff and over 13 million volunteers working for our members, we represent and support almost half the voluntary sector workforce.
Published 5 September 2012