News story
Funding announced to help fight illegal money lenders and scams
Specialist regional Illegal Money Lending (IML) and Scambuster teams run by Trading Standards will continue to be funded by the Department for…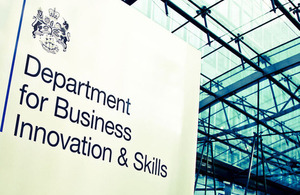 Specialist regional Illegal Money Lending (IML) and Scambuster teams run by Trading Standards will continue to be funded by the Department for Business.
In order to deliver even better results and a more efficient service the Government will also be re-organising the structure of the IML teams.
The IML and Scambuster projects will be funded next year at approximately the same level as this year - receiving £5.2m and £3.2m respectively. Funding is expected to be similar in 2012/2013.
The Department for Business, Innovation and Skills will also restructure the IML project - moving away from regional teams to a structure that will see one team in England alongside national teams in Scotland and Wales. Action in England will be co-ordinated by a Birmingham based team that already covers five regions and has proved to be extremely successful. Expanding its role will bring efficiency savings, but should also bring even better results - with independent research showing that larger teams have proved more successful than smaller ones.
Consumer Minister Edward Davey said:
"These are good projects - they are taking the fight to loan sharks and scammers in communities up and down the country.
"It is extremely pleasing that despite the huge budget deficit we have been able to find the funding to continue this important work. People who prey on the vulnerable will not be tolerated and these teams will help lead the fight against these crooks.
"But at a time when extremely tough public spending decisions have to be made, we have also taken a long hard look at whether we can deliver the same outcomes in a more efficient way. I believe our new structure does exactly that - I'm confident it will bring efficiency savings and even better results."
The Department for Work and Pensions has also announced today that
Jobcentre Plus has joined forces with Trading Standards to help customers who are being targeted by loan sharks. Frontline staff at Jobcentre Plus are now being trained in how to spot signs of illegal money lending activity.
Notes to Editors
To date, the IML teams have:
Identified over 1,700 illegal lenders;
arrested over 500 illegal money lenders (loan sharks);
written off over £37 million of illegal debts (money victims would have paid back to illegal lenders if the Department had not acted);
secured over 182 prosecutions, resulting in prison sentencing totalling over 107 years and one indefinite;
helped over 16,000 victims of loan sharks including the most hard to reach individuals;
seized over £1.3 million in cash;
over £20 million of assets are being investigated (under POCA) with the intention of removing these from illegal lender; and
referred over 600 victims to alternate (legal) sources of financial support
To date, the Scambuster teams have:

uncovered an estimated £55 million worth of fraud
*made estimated £23 million savings for consumers
*£16.5 million worth of criminal assets seized
*58 defendants including organisations successfully prosecuted with sentences totalling 75 years imposed

Over 150 credit unions and community financial institutions in Great Britain have benefited from the Department for Work and Pensions Growth Fund and more than 306,000 loans have been made to financially excluded people with a total value of an estimated £133m.

Consumer Direct works in partnership with Trading Standards and offers information on the most common types of scams and advice on what to look out for. If you think you have been a victim of a scam you can contact Consumer Direct on 08454 04 05 06 or via their website: www.consumerdirect.gov.uk

BIS' online newsroom contains the latest press notices, speeches, as well as video and images for download. It also features an up to date list of BIS press office contacts. See http://www.bis.gov.uk/newsroom for more information.
Notes to Editors
---
#
#
#
---
---
---
#
#
#
#
Contact Information
Name BIS Press Office Job Title
Division COI Phone
Fax
Mobile
Email NDS.BIS@coi.gsi.gov.uk
Name Olivia Campbell Job Title
Division Department for Business, Innovation and Skills Phone 020 7215 5363 Fax
Mobile
Published 29 December 2010