News story
Fund manager's first investment for Government in small scale waste project
Foresight's UK Waste Resources and Energy Investments (UKWREI) fund is investing £2 million with a further £2 million of matching private sector…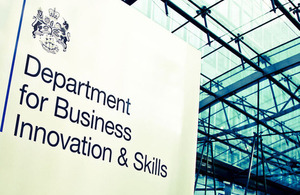 Foresight's UK Waste Resources and Energy Investments (UKWREI) fund is investing £2 million with a further £2 million of matching private sector funding, in a £21 million project to build a food and green waste processing plant in Dagenham.
Foresight were appointed to invest £50 million on behalf of UK Green Investments - the team established within the Department for Business, Innovation and Skills (BIS) to drive Government investment in low carbon infrastructure in preparation for the UK Green Investment Bank (UK GIB).
Waste infrastructure has been identified as a priority sector, and the new facility will process 49,000 tonnes of organic waste a year - saving 16,325** **tonnes a year of CO2 emissions over the same period.
Business Secretary Vince Cable said:
"This project represents the first waste investment in the run up to the establishment of the UK Green Investment Bank, and sends a clear message to the market and to potential co-investors that we are committed to investing in the UK's green infrastructure."
The money will come from the UKWREI fund, of which BIS is a cornerstone investor.
This will be the first joint anaerobic digestion and in-vessel composting plant to be built within the M25 and is expected to be operational in 2013.
The UK GIB is expected to become operational at the end of the year once it has received state aid approval.
**Notes to editors:
**1. Foresight Funds have committed £11 million (This included £2 million on behalf of UKWREI). This was matched by private sector investment of £2 million, raising the equity investment to £13 million. Senior debt of £7.9 million is being provided by London Waste and Recycling Board (LWARB) and Investec Bank plc.
The UK GIB is designed to accelerate private sector investment in the UK's transition to a green economy. Offshore wind power generation, waste processing and recycling, energy from waste generation, non-domestic energy efficiency and support for the Green Deal will be the first priority sectors for the UK GIB, subject to approval by the European Commission.

The Bank is expected to be fully operational later this year, subject to state aid approval. In the meantime, the Government is paving the way for its establishment by investing directly, on fully commercial terms, in green infrastructure. These investments are being made by UK Green Investments, the specialist team within the Department for Businesses, Innovation and Skills (BIS). All BIS investments made by the fund managers will be match-funded with private sector capital.

In April 2012 BIS appointed two fund managers - Foresight and Greensphere to initially manage £80 million in small scale waste projects.

In-vessel composting (IVC) is an industrial form of composting biodegradable waste such as household food waste. The waste is composted in an enclosed reactor, in which the temperature, moisture and air flow are controlled.

The Government's economic policy objective is to achieve 'strong, sustainable and balanced growth that is more evenly shared across the country and between industries.' It set four ambitions in the 'Plan for Growth' (PDF 1.7MB), published at Budget 2011:
To create the most competitive tax system in the G20

To make the UK the best place in Europe to start, finance and grow a business

To encourage investment and exports as a route to a more balanced economy

To create a more educated workforce that is the most flexible in Europe.
Work is underway across Government to achieve these ambitions, including progress on more than 250 measures as part of the Growth Review. Developing an Industrial Strategy gives new impetus to this work by providing businesses, investors and the public with more clarity about the long-term direction in which the Government wants the economy to travel.
BIS's online newsroom contains the latest press notices and speeches, as well as video and images for download. It also features an up to date list of BIS press office contacts. See http://www.bis.gov.uk/newsroom for more information.
Notes to Editors
Contact Information
Name BIS Press Office Job Title
Division Department for Business, Innovation & Skills Phone
Fax
Mobile
Email bispress.releases@bis.gsi.gov.uk
Name Andy Aston Job Title
Division Department for Business, Innovation & Skills Phone 0207 215 6963 Fax
Mobile
Published 3 September 2012