Frost/Black:Transforming sickness support will boost productivity and the economy
An independent review aimed at reducing the cost of sickness to employers, taxpayers and the economy is presented to the Government.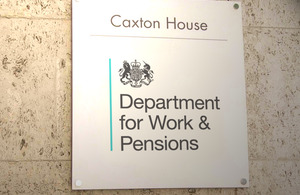 An independent review aimed at reducing the cost of sickness to employers, taxpayers and the economy is presented to the Government today by health and business experts Dame Carol Black and David Frost.
Each year around 11 million employees take sick leave and while most people return to work around 300,000 people go on to claim health-related benefits. This is a huge loss in human potential. In addition, it is costing the taxpayer £13bn a year and the country as a whole is missing out on £15bn in economic output.
Evidence strongly suggests that work is good for health and in many cases can aide recovery - but the independent Review has found that too often the sickness absence system pushes people away from work and provides little support for them to return to work quickly.
Today the reviewers have published a number of recommendations, which aim to reduce the human and financial cost of needless sickness absence in the UK.
For employers tackling sickness absence in the workplace, a key barrier to getting people back to work is that the vast majority of fit notes declare employees to be completely incapable of work. This leaves the employer with no options or advice to help the employee back into work. Therefore, the Review recommends a new Independent Assessment Service (IAS) that employers and GPs can refer long-term sickness absence cases to for bespoke advice. Employers stand to gain around £100m a year from reductions to sick pay bills from using this service.
The Review recognises that a significant minority of people can work but not in their current job. Currently, the State does not intervene to support job searches until after someone has left work. By then, they are harder to help. The Review recommends that the State introduces a new job brokering service for employees on long-term sickness absence who are unable to return to their current employer. This service could save the State up to £300m a year by reducing the benefits bill.
Although the Review is focussed on job retention, some people will inevitably flow in and out of the benefits system. The Reviewers have observed that the current State benefits system fails claimants with ill-health by directing too many people to Employment and Support Allowance but subsequently declaring most fit for work after a long delay. The Review recommends the removal of the assessment phase for claimants of Employment and Support Allowance. This will allow those claimants who need support to get it sooner and those that can work help to find a job more quickly. It will also save the taxpayer £100m each year.
David Frost former Director General, British Chamber of Commerce said:
Evidence clearly shows that the longer you are out of work the harder it becomes to get back in. But in many cases sickness absence is due to health conditions that are nonetheless compatible with work - and can often be improved by work.

The current certification system does not provide employers with the advice they need to make informed decisions about their employees' capability for work. The establishment of the Independent Assessment Service will provide practical support and help to allow employers to make informed judgements about a return to work for their staff.
Dame Carol Black, National Director for Health and Work said:
Sickness absence from work can be unavoidable, but when unduly prolonged it is wasteful and damaging. We believe we have presented an urgent and compelling case to change the current system so that it unashamedly promotes work for those that can.

If implemented these recommendations will ensure many more people with health conditions are able to enjoy the benefit of work; far fewer will needlessly lose work and fall into long-term benefit dependency.
Welcoming the independent review today Lord Freud, the Minister for Welfare Reform said:
The Government is committed to supporting more people with health conditions to work. The economy loses £15bn in lost economic output each year due to sickness absence and we cannot continue to foot this bill. But even more important is the impact of needless inactivity on people's lives; the damage to their aspirations and their health and the damage to their families and communities.

The Government will undertake a comprehensive assessment of the Review's findings and recommendations with the view to publishing a response during 2012.
Edward Davey, Minister for Employment Relations said:
Sickness absence is an issue that affects everybody. The current system lets down individuals, businesses and tax payers which is why this review is such an important piece of work. As part of our efforts in reviewing employment-related law and removing the burdens on business, we have the opportunity to make a real difference - tackling sickness absence properly can increase business confidence, boost growth and help get people back into work. Getting the system right is a potential win-win situation so we will be looking at these proposals with interest.
The full recommendations published by David Frost and Dame Carol Black are published at: http://www.dwp.gov.uk/policy/welfare-reform/sickness-absence-review/
Notes to Editors:
The PM announced an independent review in sickness absence in February 2011.
Around 140 million working days are lost each year to sickness absence in Great Britain (approximately 4.9 days per worker or 2.2% of working time lost).
Over 80% of all sickness absence spells are short term (up to one week).  Long-term absence (over 4 weeks) makes up only around 5% of all spells but almost half of total working days lost.
One million employees each year experience one or more spells of long term absence (over 4 weeks). (Note this is the target group for Independent Assessment Service)
Over a quarter of the 27.5 million people in work have a self-reported long-term health condition (lasting more than a year) and 59% of those with a long-term heath condition are in work.
Employers pay £9 billion a year on sick pay and associated costs e.g. administrative and recruitment costs (£1.5 billion on SSP; £6.9 billion on OSP and £0.5 billion on associated costs).
The state spends £13 billion annually on health-related benefits (Employment and Support Allowance (ESA), Incapacity Benefit, Income Support, Severe Disability Allowance).
Each year, we lose £15 billion in economic output from sickness absence.
Each year, over 300,000 people leave work and make a claim to ESA - around 50% of the total claimants come from work.
Over 60% of people are found fit for work following a Work Capability Assessment (WCA).  Even after taking into accounting of successful appeals, the proportion found fit for work is still over 50%.
Over two thirds of those who leave work and make a claim to ESA have a musculoskeletal disorder (41%) or mental health condition (26%).
The proposals if implemented are estimated to save the taxpayer £300m per year, save employers up to £400m per year and increase net economic output by over £1bn per year.
Published 21 November 2011