Friends of Yemen to meet in Riyadh
The next Friends of Yemen meeting will be held on 23 of May in Riyadh, Saudi Arabia.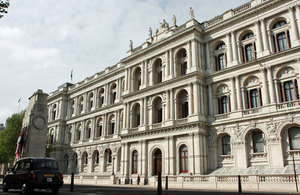 Announcing the meeting, a Foreign Office Spokesperson said:
"Yemen is facing a turbulent time, with serious security, political, economic and humanitarian challenges. As Yemen moves to formalise preparations for the second phase of transition, in particular national dialogue, we welcome the serious intent and determination expressed today. With our co-chair, Saudi Arabia, and alongside other members, we are committed to doing all we can to find concrete ways to support Yemen's plans for reform.
"The recent deterioration of political cooperation in Yemen is concerning and we call upon all groups to engage constructively in transition. The UK Government strongly endorses the statement made by G10 Ambassadors in Sana'a on 22 March, recalling the responsibilities of all parties as set out in the Gulf Cooperation Council Initiative."
Published 23 March 2012