Press release
Fresh Start progress continues to build a secure future for Northern Ireland
The Secretary of State attends his first quarterly review meeting of the Fresh Start Agreement.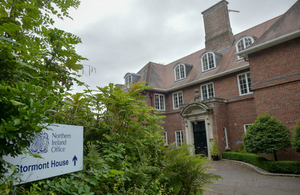 Ahead of today's quarterly meeting to review the implementation of the Stormont House and Fresh Start Agreements, the Secretary of State, Rt Hon James Brokenshire MP, has reiterated his view that all signatories of both agreements have an important part to play in ensuring a brighter, more secure future for everyone in Northern Ireland
The meeting is being held in accordance with the review and monitoring arrangements set out in the Stormont House Agreement, in line with the well-established three-stranded approach to Northern Ireland affairs. It provides an opportunity to review continuing progress since the last meeting on 29 June. Much progress has been made - in particular there continues to be excellent work on tackling paramilitary activity, and on establishment of the new Independent Reporting Commission.
Ahead of the meeting, Rt Hon James Brokenshire MP said:
I am delighted to chair today's Fresh Start and Stormont House Agreement Review meeting and welcome, the First and deputy First Ministers, Minister Sugden and Minister Flanagan to discuss progress made across the many complex areas. These quarterly meetings are an important mechanism to drive forward close working towards implementing the Fresh Start and Stormont House Agreements. The UK Government remains committed to full and faithful implementation of both Agreements, including the establishment of the new institutions to address the legacy of the past.
Good progress has been made on implementing the Agreements. This includes legislation on welfare reform, a Joint Agency Task Force to tackle cross border organised crime, an Executive strategy to disband paramilitary groups and a new Independent Reporting Commission to report on progress towards ending paramilitary activity.
We are working closely with the Executive and the Irish Government on outstanding commitments. Constructive work continues between the UK Government, the Northern Ireland Executive and the Irish Government, with progress on the outstanding points in relation to legacy. There is still work to do, and everyone in the current process must play their part.
Delivering these is essential for building a brighter, more secure future for Northern Ireland – where politics works, the economy is strong and society is more united, freed from the malign impact of paramilitary activity and associated criminality.
Published 14 December 2016