Press release
Fresh Start Agreement: One Year On
Secretary of State James Brokenshire "encouraged" by Fresh Start progress one year on but acknowledges that there is still more to do.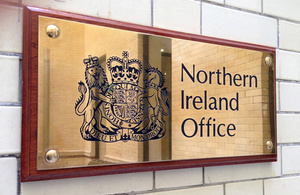 On the first anniversary of 'A Fresh Start: the Stormont Agreement and Implementation Plan', known as the 'Fresh Start Agreement', the Secretary of State for Northern Ireland James Brokenshire said he was encouraged by the significant progress made, but emphasised there was still work to be done.
Fresh Start concluded 10 weeks of intensive talks at Stormont House between the UK government, the Northern Ireland Executive parties and the Irish government which aimed for the full implementation of the Stormont House Agreement, as well as how to deal with the legacy of paramilitarism.
In the last year significant progress has been made on a range of issues, including:
Implementation of welfare reform legislation in Westminster putting the Executive's finances on a more stable footing;
Royal Assent for the Northern Ireland (Stormont Agreement and Implementation Plan) Act;
The first tranche of half a billion pounds of funding for shared and integrated education projects in Northern Ireland;
Publication of a report from an independent panel on tackling paramilitary activity in local communities; and
The restructuring of the Northern Ireland Civil Service.
The Rt Hon James Brokenshire MP, Secretary of State for Northern Ireland said:
The Fresh Start Agreement concluded 10 weeks of talks at Stormont House and addressed issues that threatened devolution itself. It put the Executive's finances on a more stable footing and resolved the deadlock over welfare reform. It put important new obligations on Northern Ireland's elected representatives to work together on their shared objective of ridding society of all forms of paramilitary activity and groups.
Much has been achieved. In the past year welfare reform legislation has passed through Westminster and Stormont and the first tranche of the available £0.5 billion funding for shared and integrated education projects has been released. A new Independent Reporting Commission on paramilitary groups will be in place before the end of the year.
Political stability is vital in Northern Ireland. I know it is a great place to live, to work, to visit, to invest and do business in no small part thanks to the firm foundations of Fresh Start, and the Stormont House Agreement before it. They are a solid platform as we continue to build a Northern Ireland that works for everyone.
There has been significant progress in the past year in combating paramilitarism. New measures were agreed to enhance law enforcement aimed at tackling cross-border organised crime linked to paramilitarism and a Joint Agency Task Force was established to take this forward in December last year. The same month, a three-person panel was appointed by the Executive with the task of recommending a strategy to disband paramilitary groups. Their report was published in June, and the Executive has now published an action plan based on it. There's also now an obligation on Assembly Members to pledge to tackle organised crime and paramilitary activity.
The UK Government has also signed a treaty with the Irish government to establish an Independent Reporting Commission. This is an international body established to promote progress towards ending paramilitary activity, which is due to be in place by the end of the year.
Although agreement on the legacy institutions contained in the 2014 Stormont House Agreement was not part of Fresh Start, the Secretary of State has made finding consensus on a way forward in dealing with Northern Ireland's past a priority. He has undertaken numerous meetings with victims' groups and Northern Ireland's political parties to try and build the necessary consensus to take this forward. He has also indicated the process would benefit from a public phase in order to make progress on this vital issue.
Published 17 November 2016