French Prime Minister honours RAF navigator
An RAF officer has received the Croix de la Valeur Militaire (Cross of Military Valour) with bronze star from the Prime Minister of France for actions taken while serving with the French Air Force in Afghanistan.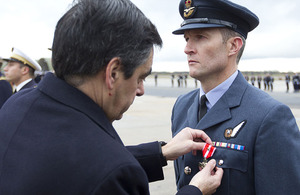 Flight Lieutenant Ian Abson, aged 43, is an RAF Weapons Systems Officer who is currently on a three-year exchange posting with the Armée de l'Air, the French Air Force, operating the two-seat Mirage 2000D attack fighter aircraft from Nancy-Ochey Air Base in north eastern France.
During a deployment to Kandahar Air Base, Afghanistan, Flt Lt Abson - together with Armée de l'Air pilot, Captain Hugues Fouquet – led missions in support of NATO ground troops throughout Afghanistan.
His citation from the French Air Force describes Flt Lt Abson as having shown 'exceptional military qualities'. It states:
He particularly distinguished himself on 19 May 10, during a mission to support American troops under heavy fire close to the Pakistan Border, delivering a laser guided bomb on to the enemy position, stopping the enemy firing and ensuring the safety of troops on the ground.
These qualities were also illustrated during 24 war missions of combat air support as part of the international war on terrorism and the re-establishment of peace in Afghanistan.
For his determination, courage and sense of duty, he merits this recognition, and is therefore awarded the Croix de la Valeur Militaire with bronze star.
The medal was presented by French Prime Minister François Fillon at a ceremony held at St Dizier Air Base on 12 December. In a speech to assembled dignitaries, Service personnel and veterans, Mr Fillon said that Flt Lt Abson's actions served as a good illustration of the new bilateral defence agreement between the two nations.
Flt Lt Abson said, on receiving his award:
It is an honour and privilege to be recognised for ones efforts and particularly by another country. My self-deprecating side would say, however, that I was just doing my job to the best of my abilities.
I'm extremely proud to be a British RAF officer on operations with the French, both in Afghanistan and in Libya, 'flying the UK flag' and making a direct contribution to our relatively new bilateral defence agreement.
Flt Lt Abson transferred to the RAF in 2001 following 15 years in the Fleet Air Arm, during which time he served in the first Gulf War as an observer (navigator) on Lynx helicopters. As a combat ready Weapons Systems Officer on the Tornado GR4-equipped 31 Squadron, based at RAF Marham, Norfolk, Flt Lt Abson deployed three times in support of Operation TELIC (Iraq). He then joined 15 Squadron at RAF Lossiemouth, Moray, as a Qualified Tactics Instructor before commencing his exchange posting with the French Air Force.
He currently fulfils the role of a combat-ready four-ship leader (Chief de Patrouille) on the squadron, leading, supervising and training squadron aircrew. Flt Lt Abson was also involved in the early French raids into Libya, including leading France's first four-aircraft air interdiction mission of the campaign.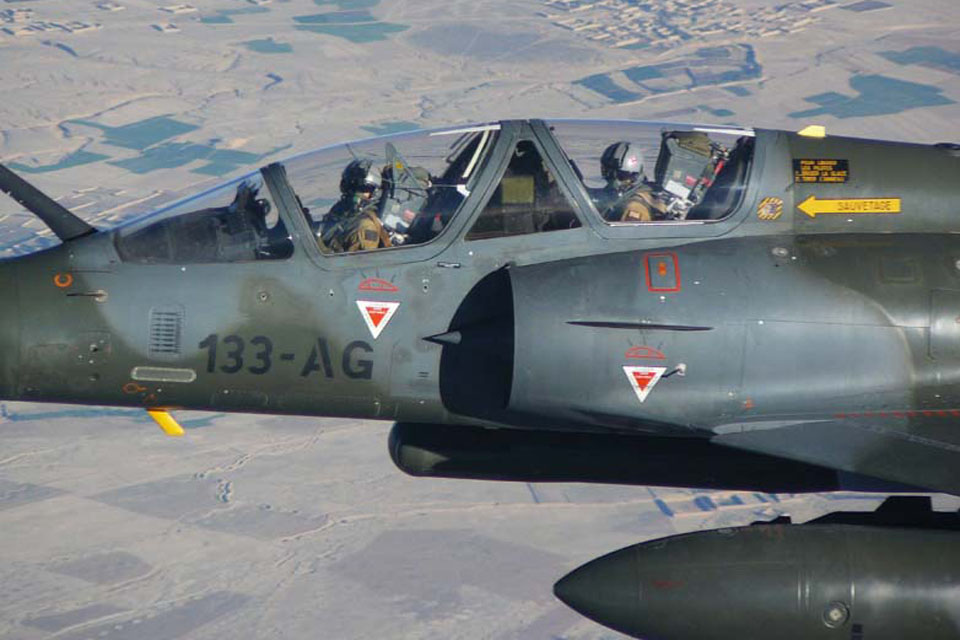 Speaking after the medal ceremony, British Defence Attaché Air Commodore John Maas said:
It's quite clear since the treaty was signed last December that, on an operational level, France has understood the need to work closely with the UK.
This translates into ceremonies like today's, where not only do they make sure that Flight Lieutenant Abson is recognised for his involvement in the air, but the [French] Prime Minister singles out the UK/French cooperation.
This is the third time I have heard the [French] Prime Minister highlight the strategic importance of Anglo-French cooperation and we were the only partner mentioned.
We're looking forward to next year when we will boost our exchange programme to 60 officers, which will offer demanding career posts.
Flt Lt Abson will continue his exchange with the Armée de l'Air, serving with 3/3 Ardennes Fighter Squadron in support of French operations, until July 2012.
Published 14 December 2011